We can't do "dance socials" right now but we want to host a virtual event where we can still dance and hang out together!
About this event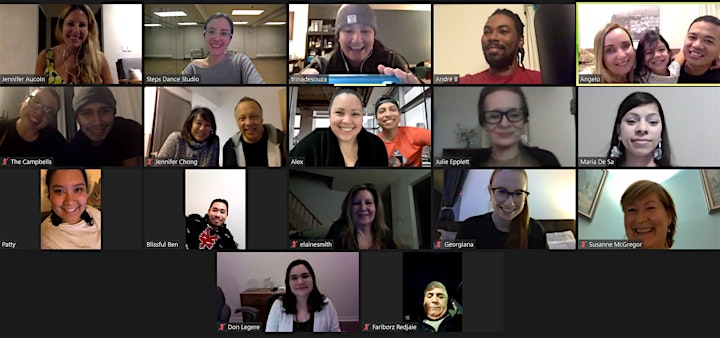 Steps Dance Studio will be hosting a dance & chill virtual event to provide something fun amidst the pandemic and social distancing rules!
Join our 2 hr event to meet other Torontonians virtually and also take a mini Salsa dance class together (30 min)! The guest host who will lead the games and social aspect will be Andrea Lo - the founder of Toronto Dating Hub.
The lesson is great for beginners but suitable for all levels / genders! No previous experience required.
You don't need a dance partner for this class. Salsa shines aka footwork combo can still be very sexy/suave!
BONUS: All attendees (who have never attended a Steps class except the free trial) are eligible to purchase a 1 month unlimited membership pass for only $50.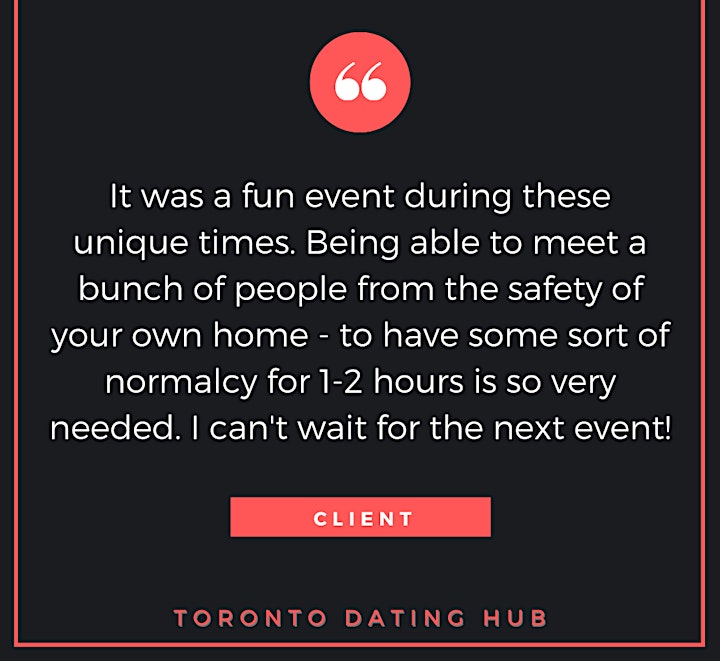 FAQ's:
Who should join? What if I've never danced or taken lessons?
If you're a beloved member of the Steps dance community - we MISS YOU and we want to connect with you again!
If you're tired of the same ol' Zoom meetings and looking for something social to do - you should come!
If you're interested in Latin dance, learning a new skill, or looking to make new friends - this is the event for you!
The dance portion is only 30 min and is perfect for all levels.
So is this a virtual event? How does it work?
Sign up for the class and we'll email you a link to the virtual event 1 day before.
During the event: We'll do an intro & icebreaker to warm up and then do a short dance lesson. Yes, cameras are optional but encouraged!
Throughout the event, we'll have games and icebreakers to keep you engaged and mingling with each other!
Have fun connecting!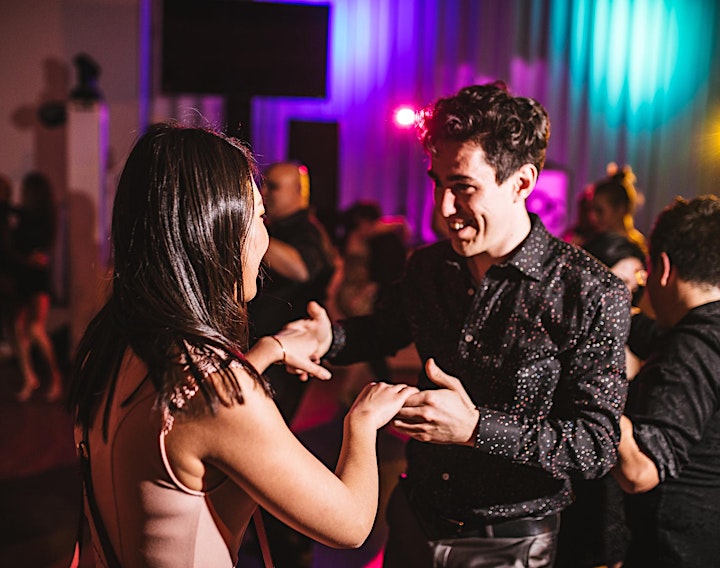 What do I need?
A laptop + working camera (smartphone will NOT have the full experience)
Steady internet connection
Zoom installed on your laptop beforehand
Flat, comfortable surface
Room to move
Apparel - be comfy enough you can dance, but presentable - like you're going on a social with a dance floor!
Have a drink or two handy for the lesson & mingling after- whether that's water or a cocktail - or both!
Pricing:
Our events and dance classes aren't usually free but we wanted to give back to the singles & dance community so be sure to sign up while quantities last.
Why is there a cap on attendance?
For the best experience and a chance to "virtually meet" everyone - we need to make this a more intimate group setting. Please do not sign up and take up a spot if you don't think you'll make it.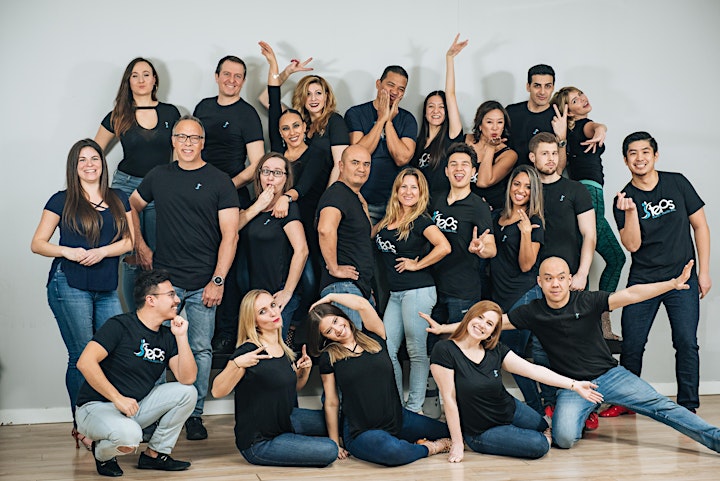 About Steps Dance Studio
Steps Dance Studio was founded almost 20 years ago by Jennifer Aucoin. Since the early 2000's, it has been a home to many Toronto dancers, performers, instructors and competitors, and a growing community that celebrates the love of dance. Since the pandemic hit, Steps has been offering over 20 virtual dance classes per week, keeping the community together and dancing together, even while we're apart.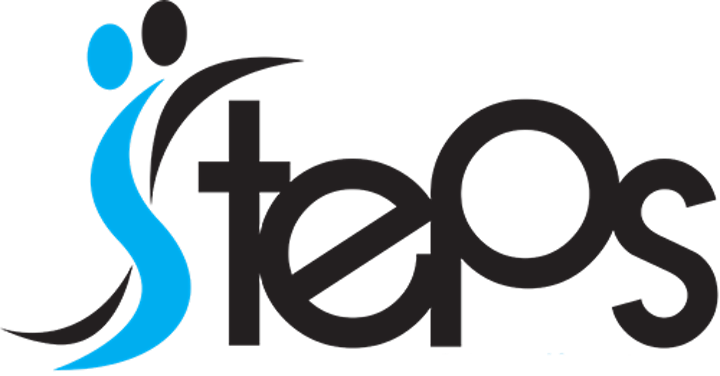 Angelo De Torres
Artistic Director, Instructor & Performer
As a co-owner of Steps Dance Studio, Angelo is a full-time instructor, choreographer and performer. He is currently managing all of the Steps performance teams, and is choreographing for couples as well as competitors.
Angelo is a professional competitor having won the Canada Salsa and Bachata Congress as well as the Chim Pum Callao Salsa Congress in the professional Bachata division. He also coaches and competes in Pro-Am showcase and heated divisions at local and international Congresses.
He has trained with multiple world-renowned artists, and has taught and performed in events all around the world. His love for Latin dance is reflected in his teaching technique. He is truly passionate about sharing his knowledge and in return seeing growth and advancement in his students.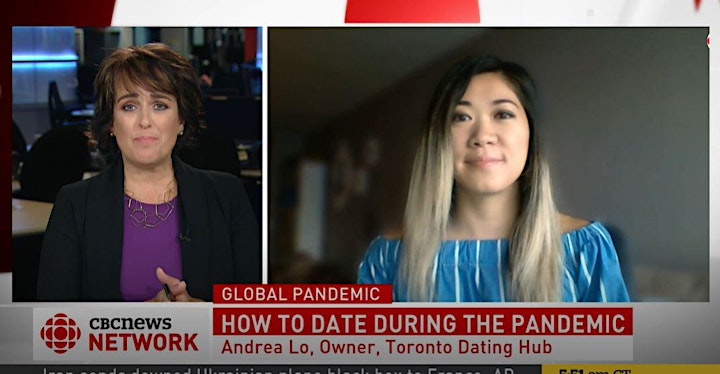 Andrea Lo -Event Host; Founder of Toronto Dating Hub
Andrea Lo is a proud UTSC Co-op Management alumna who specialized in business & marketing. Professionally, she has over 11 years of experience in marketing, event planning, and business management - but she started dancing at the age of 4 - first in ballet, and then hip hop. She did not start latin dancing until 2020 -just 1 month before the pandemic hit!
Andrea is also an entrepreneur. She is the founder & host of Toronto Dating Hub, which was featured on CBC News & Toronto Star. She is also the interim President and newly elected VP, Alumni & Student Engagement of the UTSC Management Alumni Association, as well as the co-organizer of the Toronto Entrepreneurs & Startups (TES) Facebook group (with over 6,000 members). Andrea organizes & hosts 2-3 virtual events per month.
Organizer of Steps Dance Studio: Dance & Chill - Virtual Event
Toronto Dating Hub is helping Toronto singles connect with like-minded people via unique, fun events & coaching services. If you've experienced challenges with getting matches, making conversation, or converting chats to dates - we can help you out. Reach out for a free 15 min consultation.