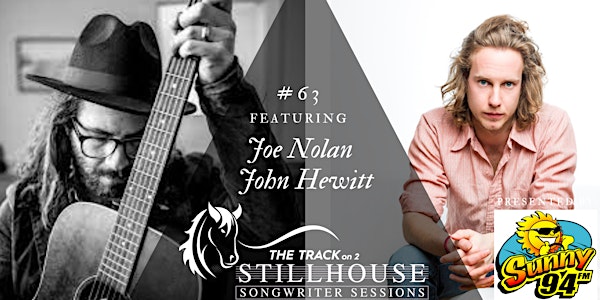 Stillhouse Songwriter Session #63 Joe Nolan & John Hewitt
Set in a listening room atmosphere that creates a unique experience for both artists and fans as artists tell their stories behind the music
When and where
Date and time
Starts on Wed, Feb 22, 2023 5:30 PM MST
Location
The Track on 2 40309 Range Road 272 Lacombe County, AB T0C 0J0 Canada
Refund Policy
Contact the organizer to request a refund.
About this event
Stillhouse Songwriter Session #63
Presented by: Sunny 94 Lacombe
DOORS 5:30 PM | SHOW 7 PM
Artists Joe Nolan & John Hewitt
THE STILLHOUSE SONGWRITER SESSIONS
Set in a listening room atmosphere that creates a unique experience for both artists and fans, The Stillhouse Songwriter Sessions will focus on the craft of songwriting and the stories that go along with it.
FOOD/BEVERAGE
Food and beverage will be available for order before and during the show. We do recommend that you come early to avoid waits. You also have the option to pre-purchase the buffet for $25 including gratuity.
Buffet: Coleslaw, Buttery Corn, Baked Beans, Rosemary Potato Wedges, BBQ Back Ribs & Garlic Toast
SEATING
For sold out shows, seating may be assigned; otherwise it is rush seating. Tables will be reserved for parties exceeding 6 guests.
THE LISTENING ROOM ATMOSPHERE
What you will experience here is a listening room. And while the performers love the audience to applaud and laugh, too much conversation during the show distracts other listeners and is disrespectful to the songwriters who form the backbone of this very special evening. We encourage talking before the show, between sets, during intermission, and after the show but ask that during the performances, audience members keep their voices low and talking to a minimum.
ADDITIONAL TIPS FOR ARTISTS
As a way of bringing some of the Nashville Honkytonk Tradition to this evening audience members may show their appreciation to the songwriters by making a donation in the artist tip jar located at the front of the stage at any time they wish throughout the evening.
MEET THE ARTISTS
JOE NOLAN, named by The Globe and Mail as "An Americana wunderkind to look out for," shares Lost Verses, his seventh album – and fifth in just five years - through Fallen Tree Records. It will be available exclusively at Bandcamp on October 31, and on all digital platforms from December 16.
The dozen songs on Lost Verses grew from notes collected in Nolan's most private journals, revealing the inner thoughts of a prolific artist who expresses longing, love and remorse with powerful melodies, primarily picked on his signature parlour guitar. During Nolan's illustrious career he's recorded with JUNO award winning producers Colin Linden and Hawksley Workman, won several Cobalt Prize songwriting awards at the Maple Blues Awards, earned a handful of BreakOut West nominations, as well as a Canadian Folk Music Award nod for Contemporary Roots Album Of The Year for his 2020 release, Drifters.
Influenced by roots-music gentry like Leonard Cohen, Patti Smith, Bruce Springsteen, Lucinda Williams and Bob Dylan, Nolan reflects on his vagabond lifestyle that takes him from his hometown city of Edmonton, to festivals and venues spread throughout Canada's peaks and valleys. A typical year will see him playing anywhere from 150 - 200 shows; he is a true workhorse and road dog.
Often framed as a lone wolf, Nolan self-produced Lost Verses, but called upon some friends to elevate the album. Key tracks feature Sarah Pagé on harp (Leif Vollebekk, The Barr Brothers), LA's COULOU on trumpet and sister Nataya Nolan on background vocals.
Opening a journal can uncloak the deepest emotions buried inside. On Lost Verses, Joe Nolan let's us in through these twelve stories of broken lovers, speeding cars and critical, honest personal contemplation, as he meditates on life's meaning through, what he calls that mist of uncertainty, "cigarette skies."
The lasting effect is a heart-wrenching and utterly inspired recording, and a guarantee that these Lost Verses will not be buried again.
JOHN HEWITT is a singer/songwriter, multi-instrumentalist, producer and filmmaker based out of Edmonton Alberta. In March of 2020 John's Alberta debut was set to be released titled "American Hotel" but the pandemic brought all motion to a halt. Focussing on the studio and songwriting he continued to produce, write and record throughout 2021. coming up with material for 2021's "Dead Lovers" and "Hollywood Reality" and 2022's "Life Blood & Tears". In that time he produced in his studio local Edmonton acts including Will Ryan's "Way on Down the Mountainside" and Angie Klein's "Made in Alberta". 2022 saw the return to the road where John performed across Alberta, British Columbia, Saskatchewan, Montana, Utah and Colorado. Highlights include the Canmore Folk Festival, Wild Oats & Notes, Waynestock, the Whitefish Songwriter Festival (Montana), Black Rose Acoustic Society (Colorado), Millwoods Canada Day Celebrations, Waterton Opera House, Gallery House Concerts, the New Moon Folk Club, Northern Lights Folk Club, Lethbridge Folk Club and Nickelodeon Folk Club.
John continues to tour and between tours he continues to produce local Edmonton acts including his own works "Life Blood & Tears: Vol. II" and "Chaos & Conversation" Set to be released in 2023.
Artist line-up subject to change without notice. In the case of event cancellation ticketholders will receive a full refund.
About the organizer
The Track on 2 is a horse racing & event centre located just outside of Lacombe, Alberta on the QEII Highway. The racetrack has a one mile dirt track and  the only 7/8 mile turf track in Western Canada. The facility includes a large grandstand, a riding arena and a number of stables. The Track is locally owned and operated by couple Kurt & Kyla Belich and their business partner Ross Morrison.