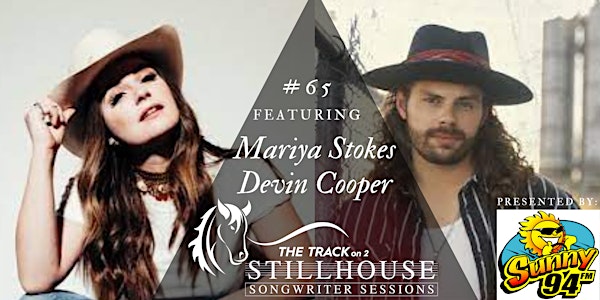 Stillhouse Songwriter Session #65 Mariya Stokes & Devin Cooper
Set in a listening room atmosphere that creates a unique experience for both artists and fans as artists tell their stories behind the music
When and where
Date and time
Starts on Fri, Mar 10, 2023 5:30 PM MST
Location
The Track on 2 40309 Range Road 272 Lacombe County, AB T0C 0J0 Canada
Refund Policy
Contact the organizer to request a refund.
About this event
Stillhouse Songwriter Session #65
Presented by: Sunny 94 Lacombe
DOORS 5:30 PM | SHOW 7 PM
Artists Mariya Stokes & Devin Cooper
THE STILLHOUSE SONGWRITER SESSIONS
Set in a listening room atmosphere that creates a unique experience for both artists and fans, The Stillhouse Songwriter Sessions will focus on the craft of songwriting and the stories that go along with it.
FOOD/BEVERAGE
Food and beverage will be available for order before and during the show. We do recommend that you come early to avoid waits.
SEATING
For sold out shows, seating may be assigned; otherwise it is rush seating. Tables will be reserved for parties exceeding 6 guests.
THE LISTENING ROOM ATMOSPHERE
What you will experience here is a listening room. And while the performers love the audience to applaud and laugh, too much conversation during the show distracts other listeners and is disrespectful to the songwriters who form the backbone of this very special evening. We encourage talking before the show, between sets, during intermission, and after the show but ask that during the performances, audience members keep their voices low and talking to a minimum.
ADDITIONAL TIPS FOR ARTISTS
As a way of bringing some of the Nashville Honkytonk Tradition to this evening audience members may show their appreciation to the songwriters by making a donation in the artist tip jar located at the front of the stage at any time they wish throughout the evening.
MEET THE ARTISTS
MARIYA STOKES
If Kacey Musgraves and Meghan Trainor had a country-soul love-child, the result would be Calgary, Canada-based country artist Mariya Stokes.Known for her quick wit, quirky sense of humour, and signature retro style, Country Music Alberta's two-time Horizon Female Artist of the Year is in music for the long haul. From hosting the 2020 CMAB Awards Show alongside the legendary George Canyon to playing guitar and opening for Ru-Pauls Drag Race superstar Trixie Mattel, Stokes always appears where you'd least expect her.
DEVIN COOPER
Southern-Rock influenced country may seem contradictory in the Great White North, but that's where Devin Cooper hangs his wide-brimmed hat. Nominated for three Country Music Alberta Awards in 2021, including "Horizon Male Artist of the Year," Cooper's signature sound is identifiable by his thoughtful songwriting and gritty rock 'n roll vocals.
Gearing up for his debut record release in spring 2022, he has released five singles to date. Most notably, "Good Things," the lead single and title track of the record, was released in March 2021: it was the #1 most played song the week of its release on CBC Sirius XM Country. Just days before making his debut on the Nashville North Stage at the Calgary Stampede in July 2021, Cooper released his second single, "Country Cliche," to all streaming platforms. Featuring down-home banjo and anthemic 1980s drum tones, both songs blur the line between country and rock 'n roll and are a taste of what's to come: Cooper does country music his way and doesn't apologize for it.
As the son of a motorcycle shop owner and custom car builder, Devin had ample opportunities to be creative working alongside his old man as he grew up. At seven years old, he began playing guitar and eventually traded in his tool kit for a music career. Since 2019, Cooper has written over 200 songs and has performed over 300 live shows. Most notably, he was a writer ANNIKA x Brett Kissel's duet, Encore, and on the 2021 CCMA Nominated Album, The Ride, by Ryan Lindsay.
In 2020 Cooper performed a sold-out headlining show at The King Eddy in Calgary, Alberta. When the global pandemic hit, he performed safely at a sold-out drive-in show, where he and Mariya Stokes were direct support for CCMA Award Winner Jade Eagleson.
Aside from music, Cooper has a long history of volunteering with Alberta Health Services. Starting at the young age of 7 years old, Cooper began volunteering at the Continuing Care Facility in Olds, AB where his mom works. Those volunteer days quickly turned into regular performances for the residents at the care facility, which made a lasting impact on him in his younger years. He was able to see first hand, the positive impact that music has on folks who are living with Alzheimer's disease. In 2019, Cooper launched "Ride To Remember", a charity event in support of the Alzheimer Society of Calgary. Ride To Remember is now in its 3rd Annual Year, and has raised over $12,000 to date, to help support the areas of greatest need at the Alzheimer Society in Calgary.
"I'm really excited for this next chapter of my music, and life." Cooper says, leading up to the release of his debut record. "I can't wait to get back on the road, play some shows, and meet some new fans this summer".
Artist line-up subject to change without notice. In the case of event cancellation ticketholders will receive a full refund.
About the organizer
The Track on 2 is a horse racing & event centre located just outside of Lacombe, Alberta on the QEII Highway. The racetrack has a one mile dirt track and  the only 7/8 mile turf track in Western Canada. The facility includes a large grandstand, a riding arena and a number of stables. The Track is locally owned and operated by couple Kurt & Kyla Belich and their business partner Ross Morrison.