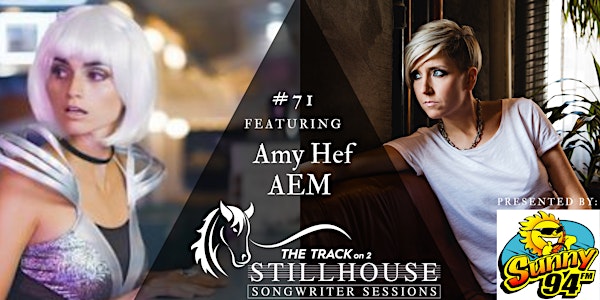 Stillhouse Songwriter Session #71 - Amy Hef & AEM
Set in a listening room atmosphere that creates a unique experience for both artists and fans as artists tell their stories behind the music
When and where
Date and time
Starts on Wed, Apr 19, 2023 5:30 PM MDT
Location
The Track on 2 40309 Range Road 272 Lacombe County, AB T0C 0J0 Canada
Refund Policy
Contact the organizer to request a refund.
About this event
3 hours 30 minutes

Mobile eTicket
Stillhouse Songwriter Session #71
Presented by: Sunny 94 Lacombe
DOORS 5:30 PM | SHOW 7 PM
Artists Amy Hef & AEM
THE STILLHOUSE SONGWRITER SESSIONS
Set in a listening room atmosphere that creates a unique experience for both artists and fans, The Stillhouse Songwriter Sessions will focus on the craft of songwriting and the stories that go along with it.
FOOD/BEVERAGE
Food and beverage will be available for order before and during the show. We do recommend that you come early to avoid waits.
SEATING
For sold out shows, seating may be assigned; otherwise it is rush seating. Tables will be reserved for parties exceeding 6 guests.
THE LISTENING ROOM ATMOSPHERE
What you will experience here is a listening room. And while the performers love the audience to applaud and laugh, too much conversation during the show distracts other listeners and is disrespectful to the songwriters who form the backbone of this very special evening. We encourage talking before the show, between sets, during intermission, and after the show but ask that during the performances, audience members keep their voices low and talking to a minimum.
ADDITIONAL TIPS FOR ARTISTS
As a way of bringing some of the Nashville Honkytonk Tradition to this evening audience members may show their appreciation to the songwriters by making a donation in the artist tip jar located at the front of the stage at any time they wish throughout the evening.
MEET THE ARTISTS
AMY HEF
Who the Hef is Amy?
Equal parts natural talent (no filler here!), compassion and humour, Amy Hef is a multifaceted artist who brings a truly unique approach to everything that she does. In other words, there is no one out there quite like Amy Hef.
Born in North Battleford, Saskatchewan, Amy is the youngest of five children and was raised in Alberta within a deeply religious family. As an adult, Hef had to look inward to become empowered and is now recognized as one of the few out and proud, queer musicians in the province; a part of Canada that is not always known for its progressive nature.
The singer has spent time honing her craft while living in LA and Calgary and Fort McMurray, finding much success wherever she has landed. Today, she has grown roots in Calgary alongside her wife and pomeranian...of which she loves equally.
The singer released her debut EP back in 2008, but prior to that was a professional drummer who toured North America. It was while on tour that the musician began songwriting and decided to embark on her own path as a solo artist.
In 2013, Hef was named the winner of the 6th annual 90.3 AMP Radio's Rock Star. The grand prize helped reinforce the fact that venturing into a solo career was the right creative decision to make.
Her 2014 single "Creepin' Me Out" went into heavy rotation at pop radio stations across the country and the 2017 release "Drunk On Conversation" currently has over 250,000 streams across Spotify and Apple Music. Over the years, the singer's music has earned placements in famous television series such as Keeping Up with the Kardashians, Vanderpump Rules and other MTV programming.
Live performances have also been a huge component of Hef's career to date. She feels at home on any stage–except ones without audio systems–and has performed for sold-out crowds in a wide spectrum of venues from dance clubs to major music events and Pride festivals. The latter of which Hef holds especially close to her heart.
Aside from her own electrifying and engaging performances, the bewitching artist has toured with Ace of Base and has opened for top-charting acts like Metric, Bif Naked and Everclear. Needless to say, her fresh and bright perspective is captured in every song and every live show.
In recent years, Hef has won multiple awards including Female Artist of the Year (2017) and Pop Recording of the Year (2019) at the YYC Music Awards. The singer has also begun a transition into the country music realm and has released her new single "Between Us" Canadian country music radio and all streaming platforms.
Amy's songwriting and style has officially found its home in country music and she is the first to tell you that she is bringing the party!
AEM
AEM is a serial songwriter and making it her mission to be heard. With a long-standing presence in the industry she took some time off from writing what is "supposed to fit" in the box outlined by genre and instead switched to writing and producing songs whichever way they naturally go. Chasing two rabbits for a short time AEM begun moving away from her former genre of Country and namesake Amy Metcalfe and began focusing on new endeavors. In the country music scene Amy received many nominations for her music as well as had a top 50 billboard song, that was later put on hold by Reba McEntire. After putting focus in other genres, it was evident that her skills were meant for a new home in pop-alt. The road to get there is seen in her new Docu-series Journey to Now on YouTube.
Her first song written in this new world was titled "Letting Go" in which AEM was the feature vocalist on the track released by DJ Kav. The song led to her performing an opening slot at a sold out Chainsmokers concert in Calgary Alberta. It was after performing with full choregraphed dancers that AEM made the decision to turn her focus to new goals in the music industry as it just felt "right".
Taking time to hone this new side of herself AEM has been working hard at learning production so that she can get all the sounds and ideas that live inside her head into a tangible form for you to hear.
Changing her frequent destination from Nashville to Los Angeles AEM has already made a splash on the west coast writing and gaining the attention of writer and producer Dubkiller. Working with Rock Mafia for many years Dubkiller has had his hand in producing and writing for artists like Miley Cyrus, Demi Lovato, Selena Gomez, Zedd, Brittany Spears and more. The two of them together alongside writer Robin Schorr had a song picked up by a major publishing company in Los Angeles in late 2020.
With 100 new songs over the last 2 years an album in the near future is evident. AEM hopes to continue to bring her relatability as a writer and pair that with sounds from the inner workings of her mind.
Artist line-up subject to change without notice. In the case of event cancellation ticketholders will receive a full refund.
About the organizer
The Track on 2 is a horse racing & event centre located just outside of Lacombe, Alberta on the QEII Highway. The racetrack has a one mile dirt track and  the only 7/8 mile turf track in Western Canada. The facility includes a large grandstand, a riding arena and a number of stables. The Track is locally owned and operated by couple Kurt & Kyla Belich and their business partner Ross Morrison.