About this Event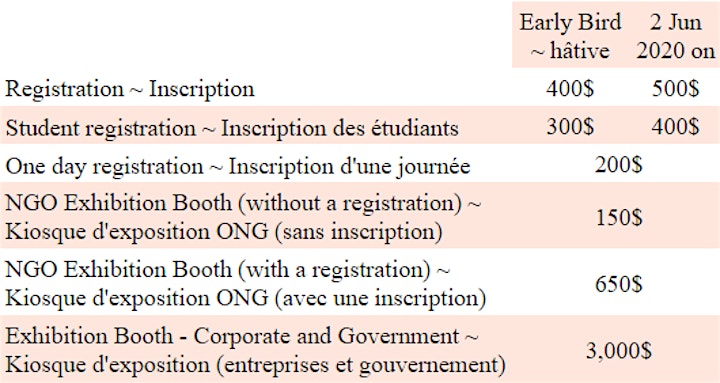 We recognize that people may be worried about Stimulus 2020: Drugs Policy and Practice in Canada scheduled for Gatineau/Ottawa September 29-Oct 2, 2020.
Stimulus co-hosts, partners and staff continue to follow coronavirus developments by provincial, national and international health experts. Through our work, we have a strong connection with Health Canada and we continue to follow their and Global Affairs advice.
Stimulus 2020 is 6 months away and we continue to believe that Stimulus 2020 will not be impacted by the coronavirus.
Early bird registrations and scholarship applications are open. More information on our website. You can contact us through our website or social media channels if you have any questions.
The Stimulus conference acknowledges that another public health crisis continues to unfold in Canada at this time. People continue to die at alarming rates from accidental poisoning from a toxic illegal drug market and the work to protect the health and safety of those who use drugs must continue. We laud the current efforts by governments to stem the tide of COVID19 cases and wish a similar level of response was taking place to save the lives of people at risk of overdose death in Canada.
Nous reconnaissons que les gens peuvent s'inquiéter à propos de la conférence Stimulus 2020 : Drogues, politiques et pratiques au Canada, prévue du 29 septembre au 2 octobre 2020 à Gatineau/Ottawa.Les co-animateurs, les partenaires et le personnel continuent de suivre de près l'évolution de la situation en se basant sur les informations fournies par des experts en santé provinciaux, nationaux et internationaux. Grâce à notre travail, nous entretenons une relation étroite avec
Santé Canada et continuons de suivre les conseils d'Affaires mondiales Canada.Stimulus 2020 aura lieu dans six mois et nous continuons de croire que le coronavirus n'aura pas de répercussions sur la conférence.Vous pouvez dès maintenant effectuer une inscription anticipée et une demande de bourses. Vous trouverez de plus amples informations sur notre site Web.
Pour toute question, n'hésitez pas à communiquer avec nous par l'entremise de notre site Web ou de nos plateformes de médias sociaux.
La conférence Stimulus reconnaît qu'une autre crise de santé publique lieu actuellement au Canada. Les gens continuent de mourir à une vitesse alarmante de l'empoisonnement accidentel causé par un produit acheté sur le marché des drogues illégales et toxiques, et le travail pour protéger la santé et la sécurité de ceux qui consomment des drogues doit se poursuivre. Nous saluons les efforts actuels des gouvernements pour contrer la vague de cas de COVID-19 et nous aimerions obtenir un niveau de réaction similaire pour sauver la vie des gens à risque d'une surdose mortelle au Canada.
----------------------------------------
In October 2018 we held the first Stimulus conference ever in Edmonton Alberta! Over 850 people came together in an effort to accelerate thinking towards better responses to substance use and drug policy related harms in Canada. It was an overwhelming success. Our participant evaluation demonstrated that Stimulus 2018 was an important experience for those who came and contributed immensely to increasing knowledge about innovation, best practice and strategies for positive change in Canada. Communities across Canada continue to be in the midst of an opioid overdose crisis, illegal drug markets continue to flourish and people who use drugs continue to be criminalized and marginalized within systems of health, social care and economic support. We are inviting you to be a sponsor of Stimulus 2020.
Stimulus 2020 is expected to attract between 900 and 1,100 participants. The people who will attend include nurses, social workers, people who use drugs, physicians, family organizations, corrections staff, front-line workers, researchers, and others from across the country. Traditionally at our events, we keep registration costs as low as possible so more people can attend. Many are working in a non-profit capacity. We will demonstrate community action, mentoring and community development by providing numerous scholarships for people with lived experience and others on the front lines.
En octobre 2018, nous avons réalisé la toute première conférence Stimulus, à Edmonton, Alberta! Plus de 850 personnes s'y sont réunies afin d'améliorer les réponses à la consommation de substances et aux méfaits résultant des politiques sur les substances au Canada. L'événement a connu un succès retentissant. Les évaluations fournies par nos participants et participantes démontrent que Stimulus 2018 a été une expérience d'importance pour les personnes qui y ont assisté et qu'elle a rehaussé énormément les connaissances sur l'innovation, les pratiques exemplaires et les stratégies menant à un changement positif au Canada. Dans les communautés aux quatre coins du pays, une crise de surdoses se poursuit; le commerce de substances illégales continue de prospérer et les personnes qui consomment des substances sont encore criminalisées et marginalisées par les systèmes de santé et de services sociaux. Nous vous invitons à commanditer notre événement Stimulus 2020.Nous nous attendons à ce que Stimulus 2020 rassemble entre 900 et 1 100 participants et participantes. Les personnes qui y assisteront sont notamment des membres du réseau de la santé et des services sociaux, des personnes qui consomment des substances, des médecins, des organismes au service de la famille, des employés et employées des services correctionnels, des intervenants et intervenantes de première ligne, des chercheurs et chercheuses et d'autres encore qui viendront de partout au Canada. Afin qu'un plus grand nombre de personnes puisse participer à nos événements, les frais d'inscription sont maintenus au plus bas possibles. Nous sommes conscients que plusieurs intéressées travaillent pour des organismes à but non lucratif. Pour contribuer à l'action communautaire, au mentorat et au développement communautaire, nous octroierons de nombreuses bourses à des personnes ayant une expérience vécue et à d'autres personnes des premières lignes.