Description
Have you considered adapting your summer sun dress? Make it light up and dazzle all night long! Create that ultimate haute couture piece for the runway! The ugly Christmas sweaters will never be the same again!
This is your chance to get hands-on help to create an outfit that dazzles with the makers of StitchKit.
StitchKit is a FashionTech kit made for everyone: from young students, to teachers, to design professionals and cosplayers.
In this afternoon workshop, you will receive a StitchKit, which contains all the components you need to get started to turn your design projects into awesome wearable projects! And, you'll get hands-on help with your creation.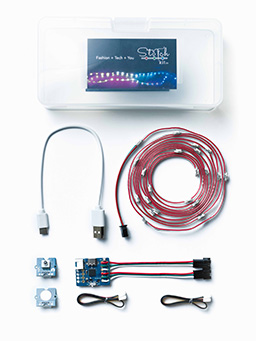 StitchKit comes with a custom Arduino-based board made specifically for FashionTech and wearables. The controller (the brain of a fashion tech/wearable piece) was designed to withstand movements of daily wear and use, yet is compact enough to be incorporated and hidden into your fashion or wearable piece.