About this Event
STOP DIMMING YOUR LIGHT! ONE DAY WORKSHOP
Are your fears and doubts keeping you stuck?
Do you play small to avoid making others insecure?
Are you ready to live with courage and passion?
Dreaming of a life created with purpose and intention but don't know where to start?
If you've answered yes to even one of these questions, you will NOT want to miss this game changing day!
IN THIS WORKSHOP YOU WILL:
Understand why and how you dim your light
How it is affecting you and your relationships as well as your mental/emotional well being.
Disrupt the destructive pattern of the "disease to please"!
Learn how to effectively rewire your brain so that you can unhook from patterns like guilt, shame, jealousy, anger, resentment, self-judgement, saying yes when you don't want to and any other self-defeating patterns.
Create a new relationship with your patterns so that they no longer sabotage you and your ability to create healthy relationships, have success and shine your inner light.
Learn the anatomy of good boundaries.
Understand the "Cycle of self-denial" and how it trained you to not value your needs, wants and kept you silent and non-expressive of your real self.
How to move from 3rd dimensional "survival" living to 5th dimensional living in which you activate your learning and knowing consistently and effectively.
Understand precisely what the formula for successful change is.
Understand in concrete terms the difference between self-love and self-worth.
Create and execute a series of effective neural pathway changing, affirmations and mantras that you can take with you!
Learn how to be your own CHAMPION by disrupting what you learned and normalized in your family-culture that did not serve you. Learn to visualize and effectively disrupt multi generational family bullshit patterns!
Liberate your light from deep within so that you can be the hero of our own life and unleash your value and your gift onto to the planet.
Join us March 7th, at the beautiful Freedom Factory (downtown Toronto) for a one day STOP DIMMING YOUR LIGHT intensive workshop with the passionate and incredibly knowledgeable Toronto Psychotherapist Victoria Lorient-Faibish!
Registration is now open and seats are very limited!
PLUS! Grab Victoria's two amazing SIGNED books ("Connecting" & "Find Your Self-Culture") at a special event price of $30!
TESTIMONIALS FROM PAST EVENTS:
"Victoria Lorient-Faibish is a powerhouse speaker, full of inspiration, motivation and dedication"
"Victoria not only delivered but she rose the roof off!"
"Victoria was phenomenal, there were many aha moments.She has a way of pin pointing where the problems originated in our family and self culture. The women who attended left with clarity and insights that helped them shift their perspective. Victoria also helped clarify the many complex questions she got and did it in a way that was warm, compassionate and supportive."
---------------------------------------------
Please send your questions and inquiries to Nadia at info@empoweredtribecollective.com
More information at www.empoweredtribecollective.com - @ empoweredtribecollective.com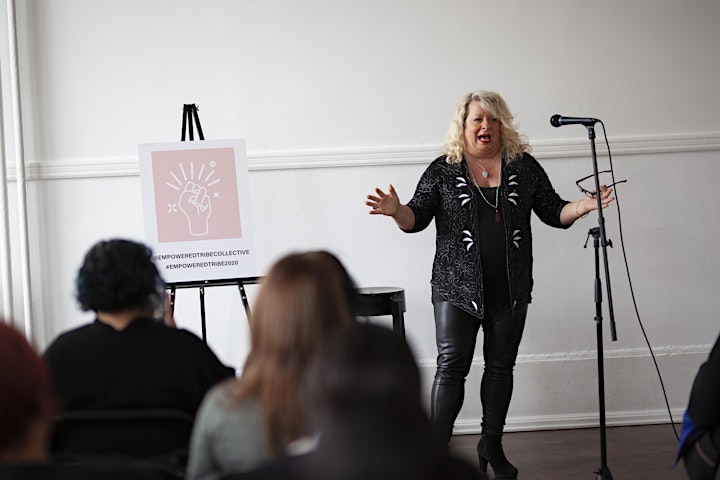 Victoria Faibish Lorient teaching at 20/20 in 2020! What an amazing day!