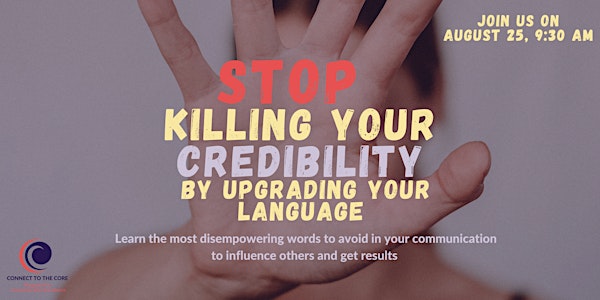 Stop killing your credibility by upgrading your language
Learn the most disempowering words to avoid in your communication to influence others and get results
About this event
Ready to learn the most disempowering words to avoid in your communication so you can easily influence others and get results? Join us for this half-hour COMPLIMENTARY training and before the meeting is over, we will give you with a PDF list of Weasel Words to avoid, and provide you with powerful replacements!!!
Weasel Words are everyday words used that are disempowering and allow you and/or the people you are communicating with to "weasel" out of making a commitment.
In this half hour live training with Communication Coach, Teresa Easler, we'll be identifying weasel words and share how you can eliminate them from your vocabulary in order to stand out.
We'll draw some distinctions so you can be more intentional about the language choices you make and Teresa will share alternative ways of speaking to get better results.
AND, we'll be giving away one of our Communication Digital Courses at the end of this webinar to one of the attendees!
"I'm Teresa Easler, Founder of Connect To The Core, a company that works with individuals and organizations increasing their success by showing them how to utilize good communication, persuasion, and influence in non-manipulative ways. I'm so excited that you're considering our webinar, " Stop killing your credibility by upgrading your language. See you live, online, soon! "
Join us on August 25 at 9:30 am EST!
Teresa Easler
Communication Coach | Founder of Connect To The Core Inc.
P.S.
Download our COMPLIMENTARY "Are-You-A-Presentation-Rockstar-Scorecard" and "9 Secret Communication Strategies Checklist". It includes steps, based on your personalized score, to help you become an exceptional communicator.
Click here and start scoring yourself right away!