Location
Landmark Cinemas Country Hills
300-388 Country Hills Boulevard Northeast
Calgary, AB T3K 5J6
Canada
Refund policy
Contact the organizer to request a refund.
Eventbrite's fee is nonrefundable.
Do you want to quit smoking? Now you can easily, effectively and naturally with hypnosis. No prescriptions or nicotine replacement aids.
About this event
Do You Want To Quit Smoking?
If so, you're not alone. In 2019, Stats Canada estimated that more than 4.7 million Canadians smoke cigarettes and that number is still growing. Cigarette smoking is the leading cause of preventable death in the North America, killing over 500,000 people each year. It's a habit that can be difficult to break for many people but it doesn't have to be this way!
With hypnosis, you can stop smoking naturally and easily and often without any withdrawal symptoms or cravings. Imagine waking up tomorrow morning a non smoker. You'll immediately feel healthier and happier with your new lifestyle change! When you do not smoke anymore, you sleep better, reduce your anxiety and feel energetic, liberated and stress free.
The Serene Way To Stop Smoking With Hypnosis seminar will help you get rid of your smoking habit by re-training your subconscious mind to end the relationship you currently have with cigarettes. Namely stop believing the lies that smoking instills in our thoughts such as 'Smoking reduces my stress" or "It's too late for me to quit now". Every cigarette is a lie and a pack of cigarettes is a pack of lies.
It's said that in life, you can not change your circumstances until you change the way you think! When you leave the seminar, you will leave with a new belief that cigarettes are no longer necessary for your survival. This means no more nicotine withdrawals or cravings - just a sense of confidence to live a healthy life moving forward completely free from cigarettes for good!
Imagine being able to breathe crisp clean air and knowing that those nasty side effects won't come back anymore because the thought to light up and smoke has been reframed and changed at the source - inside your powerful subconscious mind!
That's what the Serene Way Stop Smoking System is there for. To make sure you never have to experience another day feeling like a slave to cigarettes again! Join us and experience for yourself, how easy it really is to stop smoking right now...with your own thoughts and the help of Eliot Hoppe, Clinical Hypnotherapist.
"It is in your moments of decision that your destiny is shaped."
- Tony Robbins -
For less than the cost of smoking for one month, you can stop smoking for a lifetime.
This experience is serene and the lifetime benefit ...simply priceless!
Why wait another minute to liberate and free yourself from the very habit you want to let go now! We will guide you through each step to ensure you are smoke free for life!
This is a fully supported smoking cessation program which uses multiple modalities including meditation, NLP and Hypnotherapy. We do not upsell you - We are transparent and focussed on helping you quit smoking forever. Within 1 week, you will be smoke free.
Once you register, you will receive three sessions just as if you were in a session with Clinical Hypnotherapist Eliot Hoppe privately in his clinic in Calgary. Hypnosis is the proven, natural and relaxing way to stop smoking without the stress and cravings many others experience with prescription or nicotine replacement therapy.
The SereneWay Stop Smoking Seminars comprise of three sessions in total with the first session and seminar being live and the subsequent two sessions enjoyed online. You will have unlimited access for one full year to all the videos and supporting materials. We encourage you to come back often for the hypnotherapy sessions from Day 3,4 and Day 5,6,7.
The Live Seminar: We address the context of hypnosis, how it works and why we smoke and what it's really doing. You will experience hypnosis in a very comfortable and relaxed setting. After the first session, the majority of people will never smoke again.
Day 3/4: You will watch the online session via your private members area with your username and login. The first 30 minutes will be the exact same consultation as if you were with Eliot in his clinic. The second half hour will be your second hypnotherapy session.
Day 5-7: You will watch the final video which will deal with relearning how to relax again. Once you log in online, your first 30 minutes will be the exact same consultation as if you were with Eliot in his clinic. The second half hour will be your third hypnotherapy session. Come back as often as you need and watch the hypnosis segment whenever you simply need to de-stress.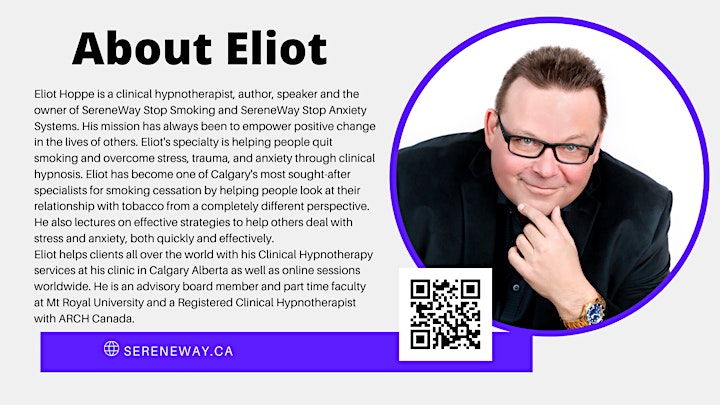 If you are looking for a stop smoking seminar in Calgary, register today to attend the SereneWay Stop Smoking Seminar at the Landmark Cinema Country Hills on January 30th. This is an event that will help you stop smoking naturally through the power of hypnotherapy. The benefits are everlasting and the experience is serene.
Imagine, you can become a non smoker naturally. No nicotine aids, patches or prescriptions. Even two and three pack a day smokers have stopped smoking using the SereneWay System. In less than a week, you can become liberated and free.
Covid restriction apply making seating for this event very limited, Join us at the Landmark Cinema Country Hills on January 30th. Registration is online only. No registration at the door.
Visit www.sereneway.ca today.