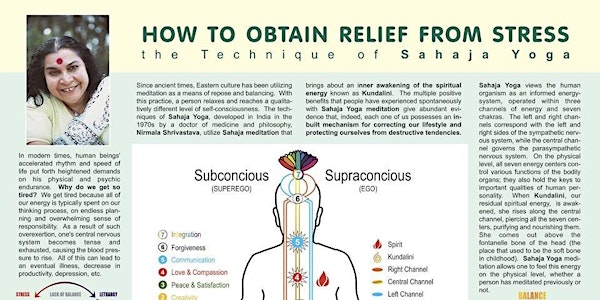 Stop the Thoughts - Stress Relief FREE Meditation Classes www.sahajayoga.ca
Free Meditation
When and where
Location
Edithvale Community Centre - Dempsey Room 102 131 Finch Avenue West North York, ON M2N 2H8 Canada
About this event
REGISTER HERE FOR ONTARIO CLASSES & ONLINE CLASSES @8PM DAILY
It establishes a deep state of inner silence and joy, where one experiences the deepest self, free from unhelpful thoughts, anxieties and worries.
Sahaja Yoga was founded in 1970 by Shri Mataji Nirmala Devi and is now practiced worldwide. FREE ONLINE CLASSES: www.sahaj.me
What Can I Expect?
The experience of Sahaja Yoga Meditation and Self-Realisation is subtle and extremely gentle. One enjoys a peaceful state where thinking reduces and the mind becomes still, whilst remaining fully aware in the present moment. With regular meditation, one develops deep inner stillness and calm, and an increased ability to deal with the challenges and stresses of daily life.
In Sahaja Yoga, we normally sit on chairs to meditate; so no need for mats or special clothing!
Our weekly sessions feature introductory talks, guided meditations, videos, practical workshops, with time for questions. There are ample opportunities to discuss the aims, culture and tradition of meditation, along with sharing practical insights on meditating at home and methods of maintaining balance throughout the day.
​Our regular meditation sessions are run by knowledgeable volunteers and are always completely free of charge.