Multiple Dates
#StopRaceBasedHate - Intro to Self Defence & De-Escalation Skills (FREE)
In response to increasing race-based attacks, Elite Taekwondo is offering self-defence training to empower and support BIPOC communities.
About this event
Race-based hate and violence against underrepresented communities are on the rise. These attacks are happening right here. To friends, neighbours, colleagues, strangers within our community. We denounce these acts of hatred. No one should be targeted due to the colour of their skin.
Building on the #StopAsianHateAlberta initiative, in an effort to educate and help BIPOC communities and allies tangibly support racial justice, we are offering FREE self defence and de-escalation training with Elite Taekwondo to empower individuals and provide proactive strategies to implement if you or a loved one are confronted with potential threats. This free training is open to everyone.
These sessions also take place during Asian Heritage Month, an opportunity for all Canadians to learn more about and celebrate the many achievements and contributions of Canadians of Asian descent who, throughout our history, have done so much to make Canada the amazing country we share today.
The theme for this May's Asian Heritage Month 2021 is "Recognition, Resilience, and Resolve"—and is meant to:
"Embody the myriad of sentiments that peoples of Asian descent in Canada have experienced and honours their contributions and their diverse stories which are rooted in resilience and perseverance. It is also a call to action for all Canadians to come together to combat all forms of anti-Asian racism and discrimination. Let us celebrate the incredible diversity that is our strength and be resolute in our stand against all forms of anti-Asian racism and discrimination."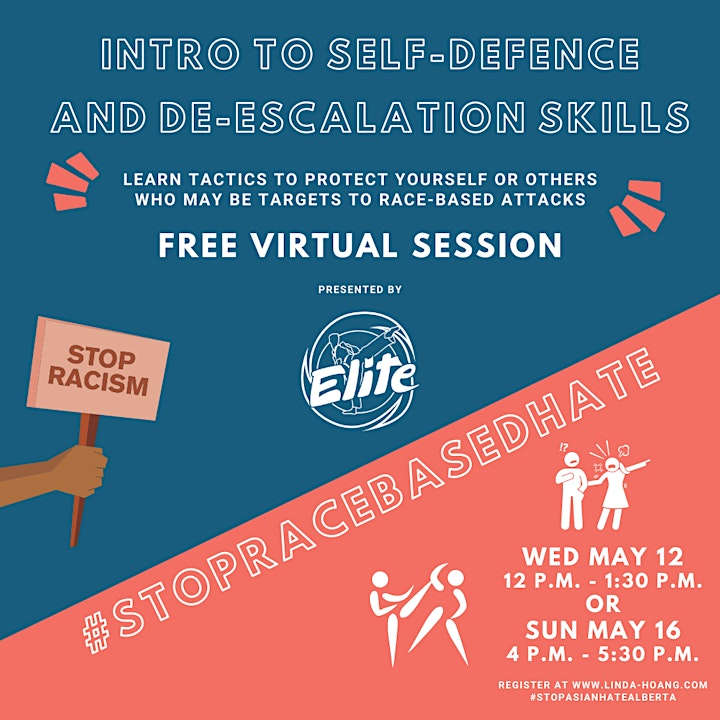 Learn how to tune into your own natural defensive senses to use body-language with verbal boundary setting skills, to control and de-escalate potential threats.
These FREE virtual sessions (select May 12 or May 16 training dates) will offer simple and effective self-defence skills, practiced in a way that empowers individuals to recondition the flight-fight-freeze response into one of strength.
To instinctually implement these proactive methods when confronted with a threat, it is necessary to first learn by doing.
Participants will get the opportunity to learn then execute skills (virtually) to gain confidence to navigate the disappointing and frustrating realities of our world today, where race-based hate crimes are on the rise.
Instructors Kaitlyn Molo, 2nd Degree Black Belt, and Janan Jomha, 3rd Degree Black Belt, of Edmonton, Alberta-based Elite Taekwondo, will teach participants how to protect yourself, your mother, your grandmother, loved ones or community members who may face race-based attacks.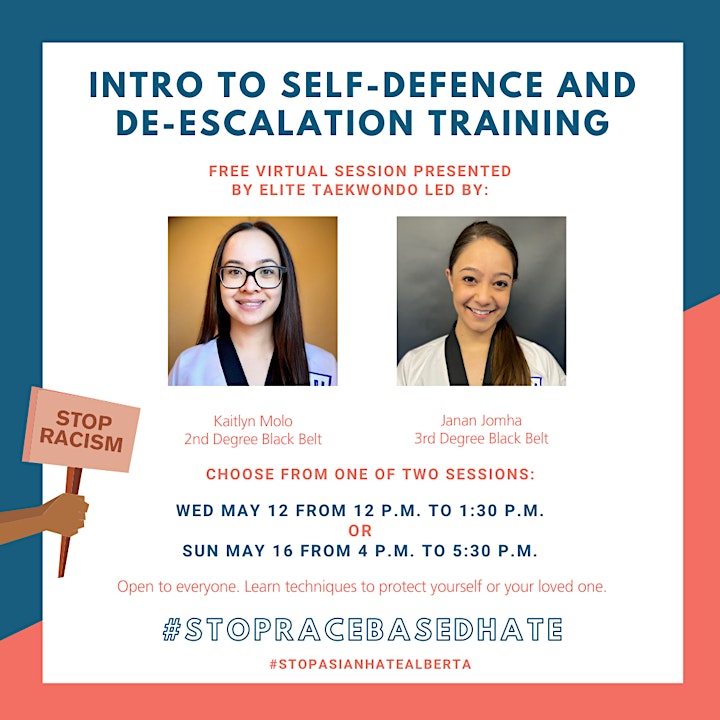 These free self-defence and de-escalation virtual training sessions are open to everyone, though spots are limited so please register to claim a spot. These sessions are prompted sadly by disgusting attacks on minority groups and people of colour. This is just one tangible action you can take to protect yourself, or become a better ally to support those who may need help.
PLEASE NOTE: Both May 12 and May 16 sessions are the same training program. Please only register for one. A Zoom link will be emailed to participants prior to each session date. Please have Zoom downloaded and be familiarized with the video conferencing tool prior to the session.
Additionally, Elite Taekwondo is also offering a 20% discount off any of their training program for all participants of these free sessions. Details to be provided to registrants.
THANK YOU TO ELITE TAEKWONDO FOR DONATING THEIR EXPERTISE TO SUPPORT BIPOC COMMUNITIES AT RISK OF ASSAULT.
This initiative is a volunteer coordinated effort by the #StopAsianHateAlberta group (Bonafide Media & PR, Linda Hoang Digital, and Food Karma Blog) in partnership with Elite Taekwondo. Our hope is that these skills help support all communities who may face race-based attacks.
Organizer of #StopRaceBasedHate - Intro to Self Defence & De-Escalation Skills (FREE)