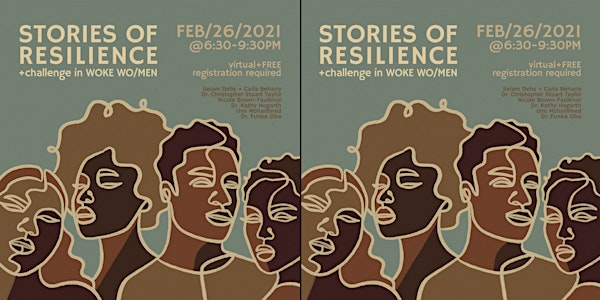 Stories of Resilience + Challenge in WOKE WO/MEN | Black History Month Ed.
Join hosts, Carla Beharry & Selam Debs for our 7th STORIES OF RESILIENCE + CHALLENGE IN WOKE WO/MEN speaking event | BLACK HISTORY MONTH ED
About this event
Join US on Friday, February 26th, 2021 from 6:30 - 9:30pm, as we celebrate and honour the wisdom, stories and voices of our Black community leaders.
Created and Hosted by Selam Debs and Carla Beharry who have curated a night of speaking, music, DJing, dance & spoken word - A tribute to our African and Caribbean cultures and communities.
After years of education, advocating and standing up for justice, this is a night of warmth and uplifting celebration.
Gracing our stage with personal stories of overcoming adversity, cultivating inspiration and finding mentorship are five speakers, spanning generations and cultures, not to be missed.
______
Speakers:
DR. KATHY HOGARTH
DR. CHRISTOPHER STUART TAYLOR
NICOLE BROWN-FAULKNOR
UMI MOHAMMED
DR. FUNKE OBA
______
Also Featuring:
Trisha Abe | Artwork + Poster Design
Good Company Productions | Audio + Video
Utamika Van Zyl | Event Host + Moderator
Jon Corbin | DJ
Tawheed Musa | Dancer
Jaleel Debs | Spoken Word
Rufus John | Musician
______
Hosted By:
Carla Beharry + Selam Debs | Co-Creators: WOKE WO/MEN Speaking Events + The Antiracism Community Collective:
SELAM DEBS: https://www.selamdebs.com
CARLA BEHARRY: https://www.infiniteoceans.com/woke-events
______
Sponsors:
Wilfred Laurier Women Entrepreneurship Centre (WEC)
Black Lives Matter Waterloo Region
Sidewalk Beer Shop + Third Moon Brewery