Sales Have Ended
Registrations are closed
For day-of registration, please email Pamela direcly at pamelaschuller8@gmail.com
Sales Have Ended
Registrations are closed
For day-of registration, please email Pamela direcly at pamelaschuller8@gmail.com
Join this intergenerational and free art-making project for Scarborough and East End residents. Workshops take place outdoors in-person.
About this event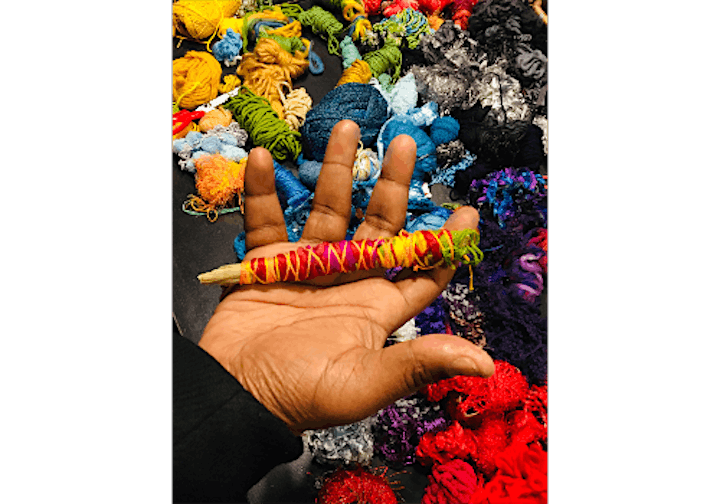 What is a Story Stick? In this project, you will be guided by community artist Pamela Schuller, to wrap sticks with textured and colourful yarns. It is a simple yet powerful way to give form to our personal life stories and collective hopes and visions.
In this phase of the Story Stick Project, we will create a Stick Installation Exhibit, collaboratively formed by wrapping many long sticks with colourful yarns, guided by the participant's visions for local and global change and good.
Community created art has the capacity to raise awareness, to engage creativity for addressing complex problems, and may also support transformation to sustainability.
The Story Stick installation will be celebrated at a public event and outdoor exhibition (date and location to be determined). The exhibit will also be celebrated through ArtworxTO: Toronto's Year of Public Art 2021-2022.
Public Installation Design Workshops
Registration priority would be given to residents from Scarborough and East End Toronto.
Thursday, September 9, 6 - 7:30 PM
Saturday, September 11, 3 - 5:00 PM
Sunday, September 12, 3 - 5:00 PM
You are more than welcome to attend multiple workshops. You would need to register each date separately on this page.
If you have any questions, please contact Pamela at pamelaschuller8@gmail.com.
All in-person programming will follow all COVID-19 Provincial and Toronto Public Health guidelines.
Story Stick Project is a community-based art project in collaboration with East End Arts, Books Art Music Collective, the City of Toronto, and artist Pamela Schuller.