Description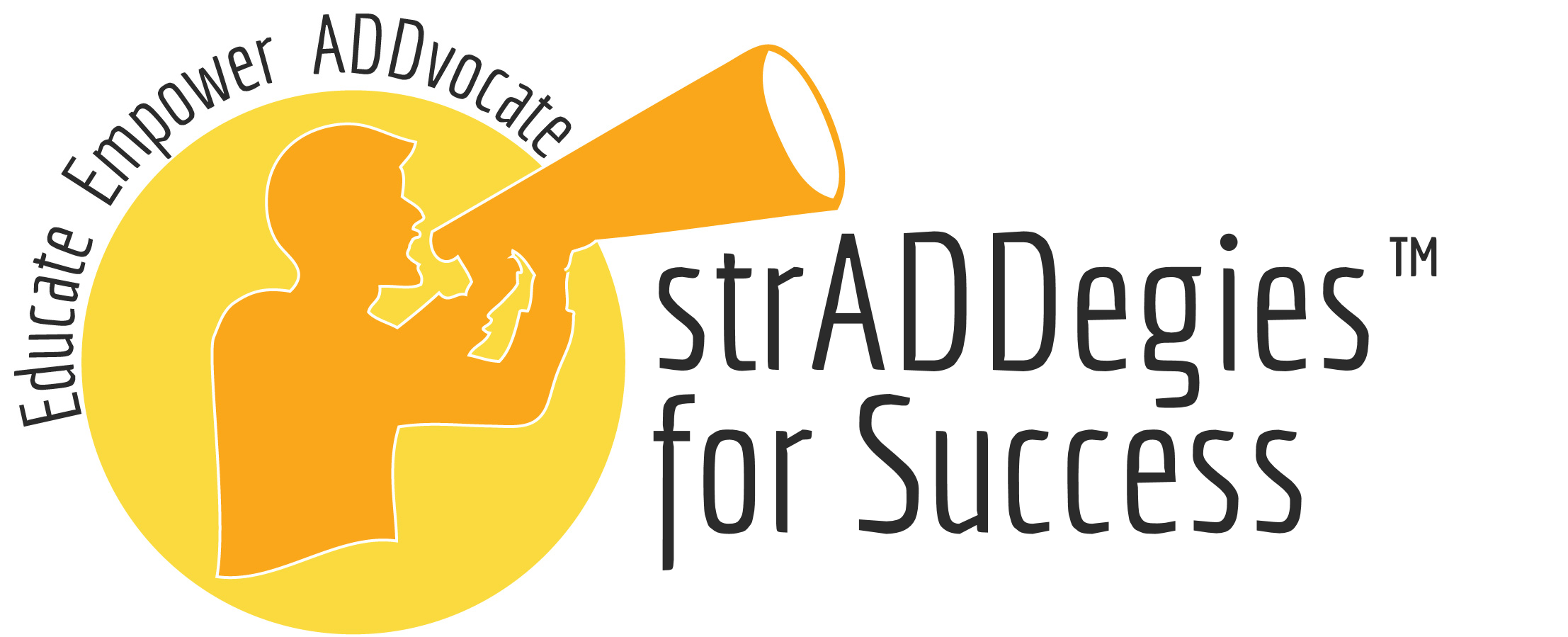 October recognizes a lot of great causes: ADHD Awareness Month, Mental Health Awareness Week and Small Business Awareness Week, just to name a few!
Join us for the 3rd Annual strADDegies for Success Expo (previously called the Nova Scotia ADHD Awareness Expo) on Wednesday, October 19th from 1-7pm at Alderney Landing!
Admission is FREE!
We have up to 60 booths available at just $100 +HST so please contact us to book yours today!
**BONUS - We are donating $500 of the ticket sales from the booths which will go into the 2017 strADDegies for Success Scholarship Fund! This open to both prospective and current college and university students who have various learning barriers! Want to donate to the scholarship fund directly? You can do that when on the page where you sign up for your tickets!**
You can expect to find all kinds of resources that will help children, youth and adults, including those with diverse-ABILITIES (ADHD, Autism, Learning Disabilities, Mental Health Challneges, physical disABILITIES, etc), lead a successful life both, in and out of school.
This year, we moved the venue to the Alderney Landing Market in order to make it more accessible for people coming from Halifax :)
We are expecting 50+ exhibitors this year, including but not limited to (want a booth? Contact us today!):
Platinum Sponsor: ADDvocacy ADHD & Life Skills Coaching (ADHD Coaching for children, youth and adults)
Gold Sponsor: Erica Baker Psychological Services
Silver Sponsor: Lisas Holistic Rehab
Silver Sponsor: Entrepreneurs with Disabilties Network
StrADDegies for Success - "Peer Led" Inclusion Training for educators, employers and case workers. (A Division of ADDvocacy ADHD & Life Skills Coaching Ltd)
The Nova Scotia ADHD Action Group - Youth and Adult ADHD Support Group
Neil Squire Society - Assistive Technology
Atlantic ADHD Centre

Organize Anything - Professional Organizer
Autism in Education Partnership / Atlantic Provinces Special Education Authority
Mental Health and Addictions - Truro ADHD Clinic
Gestalt Therapist - Jim Dalling
Skills Canada Nova Scotia - Trades and Techology
Teamwork Cooperative - Career Exploration Centre
Common Good Solutions - Social Enterprise Experts
Guardian Pharmacy - Pharmacist to answer questions on medication
Churchill Academy - Private school for learning disabilities
Disability Tax Credit Information

MedSleep - Sleep Therapists
NSCC recruitment - Check out the 120 courses NSCC Offers
NSCC Achieve Program - Transtion program for
SMU - Access-Ability Program
True North Pscyhological Services
Affirmative Ventures
VOXX Socks
Doug Wright - Financial Coach for post-secondary students transtioning from 4th year to the workplace.
Centre for Entrepreneurship Education and Development (CEED)

Reiki's Loving Light of Wellness - Reiki, EFT,
Tutor-Aide - ESL, Dyslexia, Math Tutoring
Atlantic Youth

Elemental Nutrition
Eastern College
Canadian Mental Health Association Halifax - Dartmouth
Strongest Families Institute
Dasc Industries
Canadian College of Acupuncture & Traditional Chinese Medicine
My Campus GPS
Modern Resume
Coach Rad
Hygiene by Careen - Smiles on the go
Coastal Community Renovation
Natural Legends Nutritional Consulting
Meeting Water Coffee
Seaview Holistic Therapy
INNature Nutrition
BRAVE - The Centre for Building Resilence through Anti-Violence Education
DJ Ace
Ali Breen Career Coaching for Millenials
Michael McCullough (Framed Pictures)
Joy Smith (Knitted Goods)
Uniquely Gifted
Job Junction
















We've got some great press over the past few years and we're expecting even more exposure with this expanded focus this year!
I was selected as Maritimer of the week on CTV Live at 5 on October 7th, 2016 for my the Nova Scotia ADHD Action Group and the 2016 strADDegies for Success Expo :) http://atlantic.ctvnews.ca/maritimer-of-the-week-1.3107651
Check out this article in the Chronicle Herald from our 2014 event:
http://thechronicleherald.ca/community/halifax/1245137-coping-thriving-with-adhd
We were also featured in a CTV Mental Health Minute:
http://atlantic.ctvnews.ca/video?clipId=505340
Snap'd Dartmouth covered us as well: https://dartmouth.snapd.com/event/730141#/
Follow us on Facebook as we confirm vendors at: www.facebook.com/strADDegiesforSuccessExpoNS
Use the following # tags on Social Media:
#strADDegiesforSuccessExpoNS #strADDegies #smallbusinessweek #ADHDawarenessweek #Mentalhealthweek
**We wil also have a microphone / stage (vendors will have the opportunity to pitch their services for those who may prefer to listen rather than walk around to the vendors tables, a looping powerpoint presentation of all the vendors and their services and live entertainment (Singer / Songwriter / Poet / Story Teller?) Contact us if you want to volunteer your time on stage!**
Looking forward to seeing you there!
Organizers:
Keith Gelhorn - 902-580-2343 or keithgelhorn@gmail.com
Emily Duffett - 902-698-0556 or emilyduffett48@gmail.com

Volunteers:
Kate Bessette (Volunteer Coordinator)
Chase Valiant
Amanda Baker
Alison Adams
Tyler MacDougal (Photographer / IT)
**Want to volunteer? Contact bessette.katelyn@gmail.com **
FAQs
Are there ID requirements or an age limit to enter the event?
No, all ages are welcome!
What are my transport/parking options getting to the event?
There are plenty of parking options close by to the event.
http://en.parkopedia.ca/parking/lot/alderney_ferry_terminal/b2y/dartmouth/
Coming from Halifax? Take the Alderney Landing Ferry or a bus :)
**If you are setting up a booth at the event, there is a round-about at the entrance to the market that you can temporarily park at to unload / load your displays**
Where can I contact the organizer with any questions?
Keithgelhorn@gmail.com or 902-580-2343
Do I have to bring my printed ticket to the event?
No, but we would prefer it if you would sign up for your tickets to keep track of numbers :)