WealthBeing™ Seminar featuring Doug Carroll, Tax & Estate Specialist, Aviso Wealth Inc.
About this Event
Envision Financial, Island Savings, Valley First, and Enderby & District Financial, divisions of First West Credit Union are proud to present, in partnership, this WealthBeing™ Seminar.
Straightforward advice to simplify your tax planning.
Many people have unanswered questions about how taxes fit into their financial picture. Whether you crunch the numbers on your own every year, or even if you're using the services of a tax professional, you don't want to feel "in the dark" about potential opportunities to save some money and reduce your taxes.
At our upcoming seminar, we're shining a light on the essential tax knowledge that will help you feel more in control of your financial health. Join our webinar to hear about how our tax system impacts your pocketbook and get tips that will make it simpler to manage your budget and goals.
We'll talk about:
choices that spouses, parents and business owners can make to take care of needs in the coming years;
how to know if the ways you use your money are tax-friendly, or costing you money;
aligning your saving and investment strategies with your tax situation;
what to do with inheritances and estate matters;
popular questions about government programs.
Plus, you'll get to ask your own lingering tax questions to our expert, Doug Carroll, Tax & Estate Specialist at Aviso Wealth.
Space is limited, so register now and you'll meet this tax deadline with the answers you need to feel more at ease with your finances.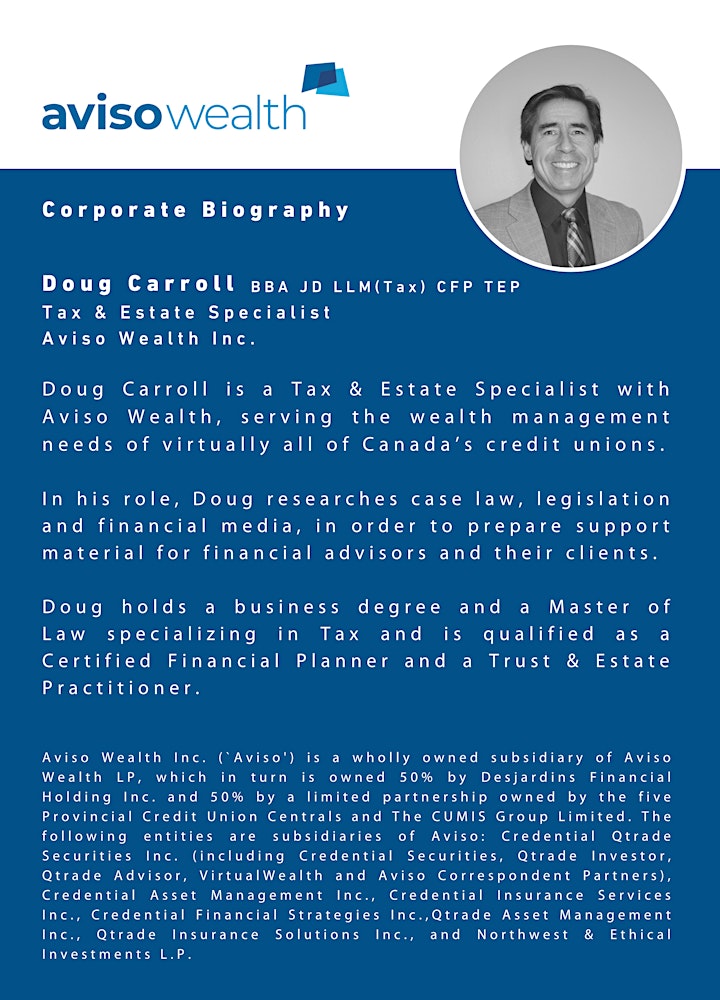 Mutual funds, other securities and securities related financial planning services are offered through Qtrade Advisor, a division of Credential Qtrade Securities Inc. Mutual funds and related financial planning services are offered through Qtrade Asset Management (a tradename of Credential Asset Management Inc). Financial planning services are available only from advisors who hold financial planning accreditation from applicable regulatory authorities.