SoundOn Presents Strange Breed Virtual Concert Live from the Rickshaw Theatre
About this event
SoundON Presents Strange Breed Live Stream from The Rickshaw Theatre
Watch Demand from 7PM Friday July 2nd to Sunday Midnight July 4th
By Donation
Strange Breed
Strange Breed is a 4 piece, all queer, all-female alternative rock band based out of Vancouver, BC. With a sound reminiscent of every 90's femme rock anthem while keeping a firm grip on the modern alternative-rock sound of today. Their polished rock releases and gritty live performances have been the catalyst to the bands quick and growing notoriety in their local scene and beyond, being regularly featured on radio stations and media across the country, and even catching the attention of the industry leader, Alternative Press Magazine, who mentioned the band in "Top 50 Canadian Artists to Watch".
The group released their debut album, "Permanence." in September 2019, and shortly after embarked on a cross country tour spanning from Vancouver Island to Montreal, QC. Within the first 3 weeks, "Permanence." cracked the Ear-Shot Campus Radio Top 50 Charts (Week of Oct 1 2019). The album also made Beatroute's "Top 10 Vancouver Releases of 2019" List, while the individual track "Witch Hunt cracked CBC's list of "Most Underrated Songs of 2019". Most recently however, they released the single "Tethers", which was featured on The Strombo Show's International Women's Day Episode, Idobi Radio and more. The single entitled "Reputation"; an ode to justice for victims of assault, which found itself on Apple Music's "New In Rock" Playlist and on CBC Radio 2: The Strombo Show's Top 100 Songs of 2020 List.
The band has played with the likes of The Pack A.D., Pointed Sticks, The Aquadolls, T-Rextasy, Old Soul Rebel, Silence Kit, Brass Box, Sleepy Gonzales, and many more.Currently, you will find them "behind the scenes" writing new songs, producing their sophomore album and "queering the status quo" of the music industry.
Partners
This event is presented with support from SoundON, Creative BC, and the Province of British Columbia.
Music Heals
SoundON has partnered with Music Heals on an ongoing resiliency fund, should you wish to donate and support Music Heals you can do so here: DONATE TO MUSIC HEALS
Strange Breed Online
Refund Policy
No refunds - unless event is cancelled.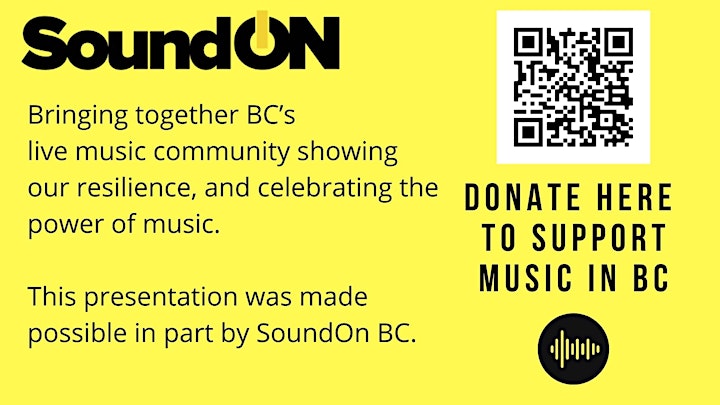 Performers
Date and time
Location
Organizer of Strange Breed Live Stream from The Rickshaw Theatre