Become an expert in Strategy | Modules Package 1
About this Event
9 Evening/ Weekend Sessions from May 7th – June 5th
Apply By: April 23rd 2021
Learn how to build a strong Strategic Foundation to grow business with communications. Finding the Right Insights, Writing a Sharp Creative Brief and a Comms Plan can help set your creative work up for success.
Ideal for
Junior position
Those looking to grow internal team
What you get
Become an expert, add foundational knowledge & skills in one area
27-36 hours of class
Digital Badge Certification
Access to M.AD School of Idea's international network
Advertising's industry connections
How it works
3 - 4 module courses
Feedback sessions
Virtual, online classes with industry professionals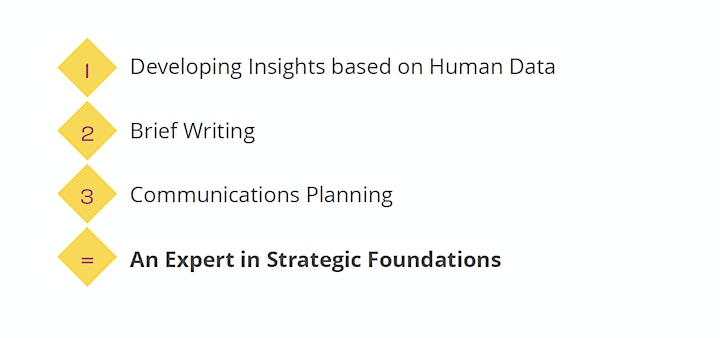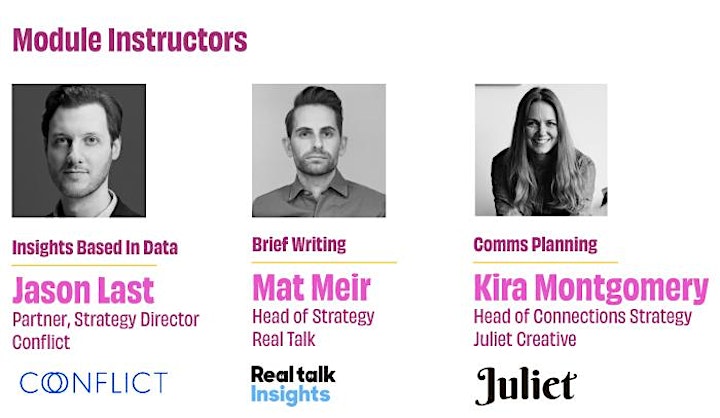 This package includes 3 skill-building modules:
Module 1: Developing Insights based on Human Data
In this module you will learn how to develop an insight using available research within four sections: consumer (target audience), culture (current trends), category (what business is the client in) and brand (the client). You will be taught the difference between an insight (a human or brand truth) and an obvious assumption (moms are busy).
Key Takeaways
Strategic tools and frameworks to support developing an insight
Developing a strong insight with sticking power
Ensuring the insight is rooted in a human and brand truth
Playing to win: standing out from competitors
Knowing when to stop
Dates: May 7th, 8th, 19th
Module 2: Brief Writing
Why a good brief is integral to a good campaign, and misstepping this pivotal phase can lead to ad 'catastrophe'. Learn tips for getting to stronger briefs and tricks to getting the best work out of the creative team, from the document to the briefing itself. Students will leave with a clear understanding of what it takes to cut through the noise and get to the point.
Key Takeaways
Brief templates
What a good brief looks like
What a bad brief looks like
The importance of a strong brief
The briefing itself
Dates: May 14th, 15th, 26th
Module 3: Communications Planning
This course will provide an in-depth understanding of planning in the digital age. Understand a target audience and their media habits to connecting during micro-moments, and understand how to present communications in the digital space and adapt/create messaging goals for each medium.
Key Takeaways:
Understanding target audience (tribes) and their media usage behaviour
Opportunities to connect across the consumer journey
Digital channels (SEM, Display, Social, Web, etc.,) Consumer-first marketing: adapting to context and triggers
Communications planning framework
Dates: June 4th, 5th, TBA