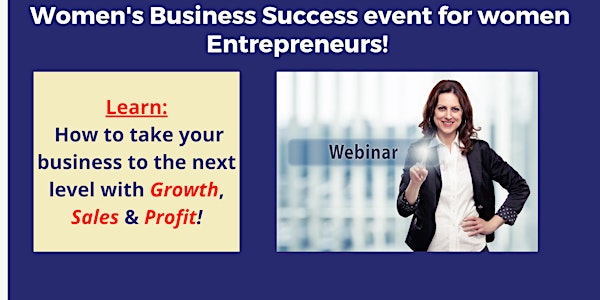 Strategies for women in Business to unlock their full potential!
Unlock your full potential to achieve your revenue goals with clarity, focus, and confidence
About this event
When women in business Succeed... the world WINS!
You still have time to make 2022 your best year yet, no matter what is happening in the outside world.
Are you a businesswoman? Are you thinking about getting into a business? Are you a Mompreneur? If you said yes, you will want to attend this event.
This event is full of education that will get you thinking and start you on the path to more profit and success. It is like no other event you have been to! This event is full of strategies and tools that you can implement in your business immediately. If you are thinking of starting a business or you are a seasoned business owner… this event is a must! Register now, you will be very happy that you did!
We will go through 5 Vital Steps to Maximize Your Growth, Sales and Profit!
And more ...
Here are some of the things you will learn at the event:
How to grow your business to the next level!
Completely remove roadblocks from impeding your growth.
How to get out of your own way!
Learn how to think like the wealthy.
How to create massive SUCCESS habits!
Maximize PROFIT in your business.
How to dream big and achieve results rapidly.
How to Eliminate FEARS and maximize growth!
How to earn the MONEY you want & have more TIME OFF!
The above will give you:
Gain More Confidence
Heart Cohesion – Listen to your Heart vs your Head in Business
Take Yourself to the NEXT Level of SUCCESS
Understand the Resilient Planning Method
About the Educator of this event:
CHERYL BISHOP is a heart-centered speaker, trainer, and author. She is the founder of Resilient Women In Business. She facilitates mastermind groups and monthly networking events in different cities.
She has been a huge support in creating momentum and growing a business Academy's reputation and following for 10 years.
Cheryl was in the banking industry for 16 years. She also had a Skincare and Fitness business where she appeared in local media and she was also involved in the direct selling industry for 14 years. She is devoted and passionate about helping people achieve more in life and in business, empowering them to do more than they ever thought possible.
She has spoken and educated on stages like: Mompreneur Canada, Toronto Entrepreneur Conference, Froc-alicious by Design, Calgary Residential Rental Association, Canadian Mortgage Broker of B.C., Holistic Chamber of Commerce, and many more.
You will often hear Cheryl say, "Your Birthright is to BE Successful!", as she believes in you often more than you believe in yourself.
The first few minutes are open networking time and then the remainder of the event will be education and tools to assist you in your business.
We look forward to assisting you to learn the strategies for you to unlock your full potential to achieve your revenue goals with clarity, focus, and confidence.
NOTE: The Zoom link will be emailed to you once you have registered.