Sales Have Ended
Registrations are closed
Sorry we have closed ticket sales for this event. Please contact marketing@theforge.mcmaster.ca if you have any questions.
Sales Have Ended
Registrations are closed
Sorry we have closed ticket sales for this event. Please contact marketing@theforge.mcmaster.ca if you have any questions.
The Forge presents a two-part, interactive workshop featuring U.S.-based Knobbe Martens and Ontario-based, Epineuron.
About this Event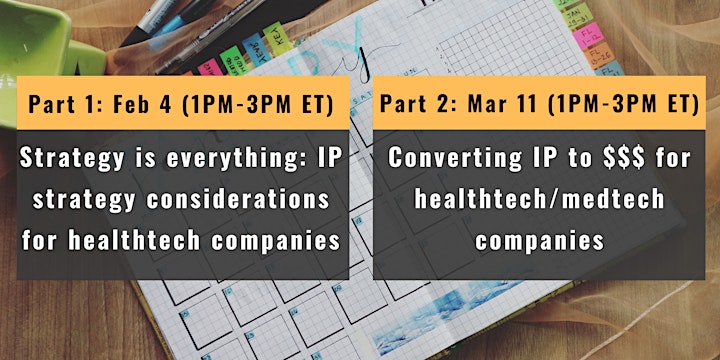 February 4th (1PM-3PM ET)
Part 1: Strategy is everything: IP strategy considerations for healthtech/medtech companies seeking investment
While there have been many workshops the deal with intellectual property in the past, this workshop takes a different approach; the goal for most healthtech/medtech companies is to get investment. A poorly designed intellectual property strategy, weak patent process or inadequate legal advice can severely handicap a company in search of investment – our goal is to help you avoid this undesirable outcome. Part one of a two part, interactive workshop series featuring U.S.-based Knobbe Martens and Ontario-based, Epineuron.
In part one of this two-part workshop, we give a quick overview of the legal instruments that can be used by healthtech/medtech companies looking to protect their intellectual property, then we dive into IP strategy. As we discuss strategy we will use Ontario-based, Epineuron as a case-study. Epineuron recently raised a seed round – founders Mike and Sergio cannot emphasize the importance of a strong IP strategy when it comes to raising money, enough.
"Our comprehensive IP strategy was a driving factor that ultimately enabled us to secure investment." - Mike Willand, CTO, Epineuron
NOTE: This workshop is scheduled for two hours. The first hour will cover the topics discussed below; the final hour will be for questions. Lawyers from Knobbe Martens and founders from Epineuron will make themselves available for companies interested in speaking with them. We will use breakout rooms for this part.
Topics covered:
Overview of Intellectual property and IP strategy
- Different types of IP - when to use what
- The process involved in patenting (especially health/med-tech)
- Preparing yourself to work with an IP lawyer
- IP strategy considerations for companies seeking investment
Epineuron's IP journey
- What to look for in an intellectual property service provider
March 11th (1PM-3PM ET)
Part 2 of 2: Converting IP to $$$ for healthtech/medtech companies
Sign up and to read more about the event here.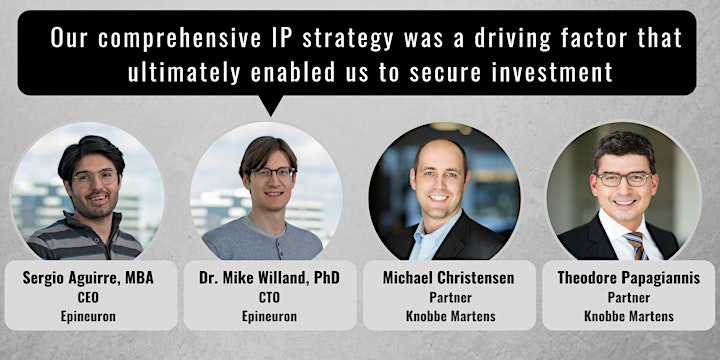 Speakers:
Michael Christensen , Partner, Knobbe Martens
Mr. Christensen is a patent attorney with over 12 years of experience. While he has helped clients protect a variety of technologies, Mr. Christensen focuses on building patent portfolios for startup medical device clients in the ophthalmic, cardiovascular, spine, diabetes, and general neuromodulation fields. Mr. Christensen also has extensive experience conducting patent due diligence for leading Venture Capital firms and other investors. He has also performed several IP audits to help companies identify ways to improve their patent portfolios. One of Mr. Christensen's areas of expertise is developing strategies for expediting patent prosecution both in the United States and abroad.
Theodore Papagiannis, Partner, Knobbe Martens
Theodore Papagiannis advises companies on developing comprehensive intellectual property portfolios and strategies, especially early-stage medical device companies and other start-ups. Theodore also conducts strategic IP evaluations on behalf of venture capital firms, other investors and other entities in connection with an investment round or acquisition. Mr. Papagiannis has extensive experience in strategically growing IP portfolios in the medical device arena, including in the fields of spine and other orthopedics, injection systems, cardiac and cardiovascular technologies (e.g., for the treatment of atrial fibrillation and other arrhythmias, hypertension, etc.), denervation and neuromodulation, hypertension, tissue ablation, catheters, sheaths and other intravascular technologies and skin treatment. He also has experience with negotiating licenses and other agreements to enhance IP portfolios on behalf of clients. Theodore is currently a member of the board of directors of Sustain SoCal, an organization that accelerates sustainability in Southern California through innovation, collaboration and education, and has been involved in leadership roles with the organization since its inception in 2010. He has unique technical and IP experience in clean and building technologies, including water and wastewater treatment, desalination, recycling and waste management, lighting, clean energy and the like. Prior to beginning his legal career, Theodore worked as an engineer for nearly a decade. He is a licensed Professional Engineer in the State of California.
Consistently ranked among the top intellectual property firms in the nation and worldwide, Knobbe Martens has close to 275 lawyers and scientists nationwide and dedicates its practice to all aspects of intellectual property and technology law, including litigation. Knobbe Martens serves a diverse group of clients from multinational corporations to emerging businesses of all stages. The firm is headquartered in Orange County, California, with offices in Los Angeles, New York, San Diego, San Francisco, Seattle and Washington, D.C., and enjoys an international reputation for excellence.
Sergio Aguirre, MBA, Chief Executive Officer
Mr. Aguirre has 10 years of experience in health technology startups both in funding, device development and commercialization. He previously worked in business development roles at the Ontario Centres of Excellence and Centre for Imaging Technology Commercialization. Sergio obtained his MBA from Western University (Ivey School of Business). He also holds a MASc in Biomedical Engineering from McMaster University and a BSc in Biological Science from the University of Guelph.
Dr. Mike Willand, PhD, Chief Technology Officer
Dr. Willand is an expert in the application of bioelectronic medicine to treat denervated muscle and injured nerves. He has over 10 years of experience in researching various therapies to enhance recovery following peripheral nerve injury. Mike obtained his PhD and MASc degree in Biomedical Engineering from McMaster University and a BEng in Electrical and Biomedical Engineering also from McMaster University. He has completed post-doctoral training in Neurosciences and Plastic Surgery at the Hospital for Sick Children.
Epineuron is a clinical stage bioelectronic medicine company developing the world's first device to supercharge nerve regeneration. Their device merges innovations in neuroscience and surgical procedures to deliver regenerative therapy to damaged peripheral nerves, ultimately helping patients regain the functions they have lost. Their lead product, the Nerve Bandage™, has been designated a Breakthrough Device by the FDA in recognition of the impact our technology can have in improving patient outcomes.