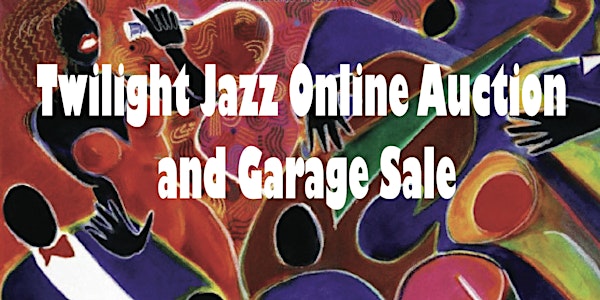 STRC Twilight Jazz Online Auctions
Bid on great items, experiences, and services while giving back to the community. Join the Twilight Jazz online auction and garage sale now!
Refund Policy
Contact the organizer to request a refund.
Eventbrite's fee is nonrefundable.
About this event
This event is brought to you by the Scarborough Twilight Rotary Club. If you attended our live Twilight Jazz events in the past, they will return next year once COVID restrictions are lifted.
The Online Garage Sale Bidding Link:
Looking for great items to purchase at ridiculously discounted prices? Check out our online garage sale where you can bid on new and vintage items. Hundreds of items spread across several bidding lots starting from $1.00 per lot. Like all great garage sales, amazing deals will be had since everything must go!
If you need to find a great deal, this is the place to begin your search....
This is not just an online auction, it's much MUCH more! Bid on private performances from award winning artists; bid on getaways; bid on unique memorabilia; bid on lessons and services and more in our silent auction.
Go give it a try. It's great to see that people are starting to bid... If you have any difficulties please send us a message strc@twilightjazz.info. We have also posted contact information for the Silent Auction Company below.
Don't forget, we will be posting additional items in the Silent Auction over the next fdw days! Thanks for sticking with us on our first ever onine auctions...
If you are having difficulty registering for the silent auction, and would like to call the company directly, please call 905-830-5504 (Monday -Friday 9-4pm) or email silentauctioncompany@rogers.com.
Shop With A Cause... What Your Shopping Dollars Support
When you buy, you support scholarships, food banks, micro loans to developing countries, local community initiatives, and much more. Since the COVID lockdowns began, our club has funded or suppoted the following:
A clean water project in Kenya
Funded 20+ micro-financing projects in more than a dozen countries including Haiti, Brazil, Paraguay, Columbia, Guatamala, Sierra Leone, Ghana, Liberia, Nigeria, Malawi, Philippines, India, and more.
Granted a Paul Harris scholarship to a high school graduate from Scarborough
Contributed toward kidney dialysis equipment and personal protective equipment at the Scarborough Health Network
Donated to two local Scarborough area food banks
If you would like to make a financial donation, please purchase a sponsor or donor ticket.
If you would like updates, please purchase a free ticket.
If you would like to donate items for future auctions, please email us at strc@twilightjazz.info.
Thanks for your support!
Scarborough Twilight Rotary Club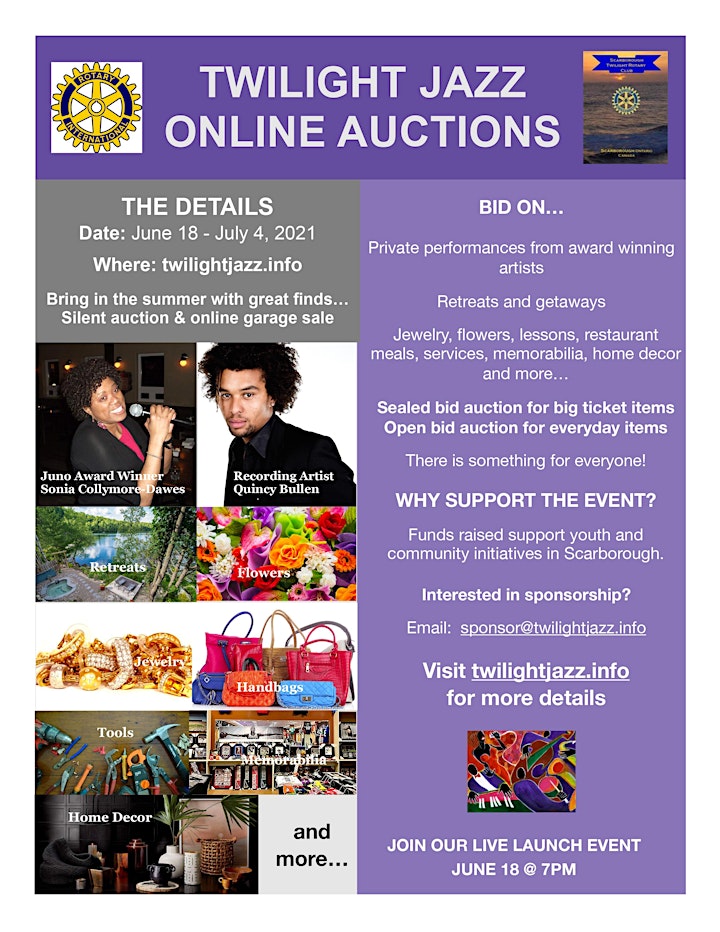 Thanks To Our Sponsors...We Couldn't Have Done It Without You!
Simone Davidek
The Kanthan Family
Basil Dias
Gordon Brown
Suzette McKoy
Denise McFarlane
Sandra & George Giorgievski