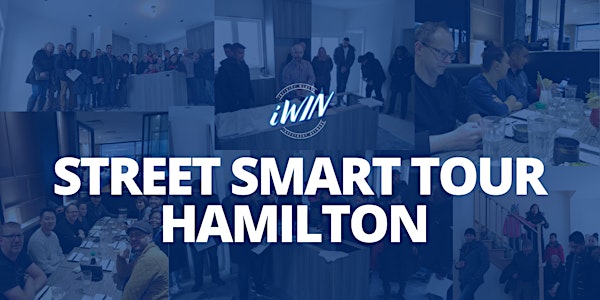 [Street Smart Tour] Dec 3 • Hamilton
Join us on Saturday, Dec 3rd, for an EXCLUSIVE TOUR of some curated properties in Hamilton
Date and time
Saturday, December 3, 2022 · 10am - 1pm EST
Location
Hamilton abc Hamilton, ON L8M Canada
Refund Policy
Refunds up to 1 day before event
Eventbrite's fee is nonrefundable.
About this event
On this tour, we'll explore a couple of Hamilton properties and analyze the numbers in terms of property prices, rents, cash flow, refi, etc. We'll also check out the market potential, tenant profile and share what we like or dislike about investing in this city.
In a nutshell, we'll be revealing many truths about investing in Hamilton, and that's why we are keeping this tour very intimate - a 25 person limit.
After the tour, we'll have a networking lunch (pay-your-own-way). You never know when you'll make that connection that could save you thousands of dollars or that one insight that could save you time and headache.
Tickets cost $15+HST, and all proceeds go to registered charity, The Hamilton Basket Brigade!
IMPORTANT: Purchase tickets by noon Friday, Dec 2nd, so we can keep you updated with any last-minute changes. We'll also send the listings and map the night before the tour.
Grab your tickets before they sell out!
REFUND NOTE: As of April 2019, Eventbrite will no longer return Eventbrite fees to the buyer when a refund request is processed.
About the organizer
Erwin and Cherry have a similar story to most people.  They studied hard in school, went to university, graduated and got good jobs, but they could barely afford what they had.  There was no money left after car payments and mortgage payments for savings let alone retirement and they didn't have pensions. Where did they go wrong? They did everything their parents said to do.
Erwin and Cherry have degrees in Business and Accounting respectively but they were not financially educated.  Erwin then started investing in real estate in 2006 and so did Cherry after they met on Match.com in 2011. It didn't all go smoothly but they read lots of books, took many courses on Sales, Marketing, Investing; and tested it all on with their own businesses and investment portfolio. Since then, they have been sharing their knowledge with friends, family, and local entrepreneurs the benefits of investing in real estate, taking advantage of government incentives for small businesses and investments.
In 2014, they started what later became iWIN (Infinity Wealth Investment Network), the premiere members only network for entrepreneurs with an investment focus in the greater Toronto area. iWIN meetings have been attended by hundreds and the next step in their growth is to 10X and host a couple thousand attendees at the Nov 9th, Wealth Hacker Conference at the Toronto Congress Centre (North Building).
Erwin and Cherry are on a mission to help everyday people from the GTA make more money, become wealth hackers so they can work less, vacation more, retire earlier, give back to their communities. Erwin via his award winning business, iWIN Real Estate has already resulted in 15 real estate millionaires as a direct result of their income properties and has been awarded Realtor of the Year to Investors in 2015, 2016, 2017, and 2018. Erwin was named Top 20 Influencer in Canadian Real Estate, his podcast is #26 for Investing on iTunes and downloaded 10,000+ per month, and Top 40 Under 40 in his community (Hamilton).  Website: http://www.truthaboutrealestateinvesting.ca/
Cherry is an author, a blogger, a Chartered Professional Accountant to entrepreneurs and real estate investors, she graduated on the Honour Roll for Accountants, top 50 in all of Canada her graduating year, and was named "Top 50 Women in Accounting" globally in 2018. She owns double digit investment properties and she is a high in demand speaker for her Accounting knowledge as it relates to investing, small business and especially real estate. Website: http://realestatetaxtips.ca/
That's a tiny bit of their story and we hope you enjoy all they have to share with the world on the subject of wealth hacking!!