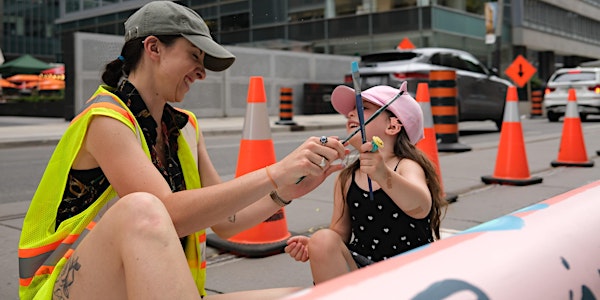 StreetARToronto: Mini Mural Makers March Break Workshop
StreetARToronto invites all future street artists to join us for a FREE Workshop to create Mini Box and Mini Barrier Murals at Worth Gallery
When and where
Location
830 Dundas St W 830 Dundas Street West Toronto, ON M6J 1V3 Canada
About this event
Thursday March 17th: Mini Mural Makers Workshop
Inspired by two StreetARToronto mural programmes "Outside The Box" and the
"Cycle Track Barrier Murals", StreetARToronto invites all future street artists to join us for a FREE Workshop to create Mini Box and Mini Barrier Murals at The Worth Gallery Space.
Mini Mural Makers is inspired by the current "Boxes & Barriers" exhibit at Worth Gallery which showcases hundreds of street murals created throughout Toronto by talented local artists.
Makers will be led by mural artists Cindy Scaife & Leyland Adams to create murals on miniature Traffic Signal Boxes & Concrete Barriers that look just like those they can find throughout Toronto!
Address: 830 Dundas Street West, Toronto, ON
Date: Thursday March 17 2022
Time:
Session a) 11AM - 12PM or
Session b) 1 PM - 2PM
All supplies are provided for this Make & Take.
Registration is required. Limited spots available. Masks Mandatory.
Photo by Mike Hajmasy & Gage Fletcher of Artist Alathea Milne-Hines & child painting her concrete barrier
Photo & Artwork by Kseniya Tsoy of child on a bicycle