Strength and Resiliency: A PhotoVoice Project by Toronto Nail Technicians
Strength and Resiliency: A PhotoVoice Project by Toronto Nail Technicians Tuesday, August 31st, 11am to 4 pm PROGRAM TIME: 1 to 2 pm
When and where
Location
Butterfield Park (OCAD U) 100 McCaul Street Toronto, ON M5T 1W1 Canada
About this event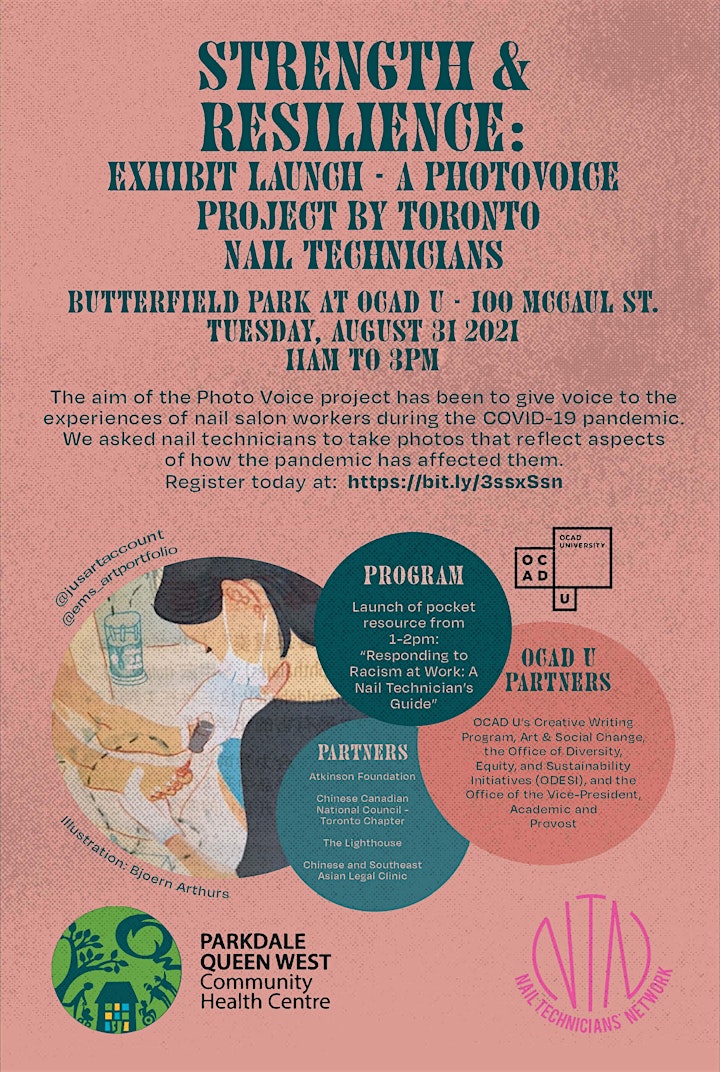 Strength and Resiliency: A PhotoVoice Project by Toronto Nail Technicians
DATE: Tuesday, August 31st, 11am to 3pm EST
PROGRAM TIME: 1 to 2 pm
Program will feature guest speakers and the launch of a new pocket resource for nail technicians, "Responding to Racism at Work: A Nail Technician's Guide" in English, Vietnamese, Cantonese and Korean.
LOCATION: Butterfield Park at OCAD U - 100 McCaul St.
* In case of bad weather, we will be indoors at Lambert Lounge on the ground floor.
Please fill the following form for contact tracing before arriving and present the last page to the front desk. Copies will also be available onsite.
https://covid-19.ontario.ca/self-assessment/
SPONSORS
OCAD U's Creative Writing program, Art & Social Change, the Office of Diversity, Equity and Sustainability Initiatives (ODESI), and the Office of the Vice-President, Academic & Provost.
Chinese Canadian National Council
Nail Technicians Network