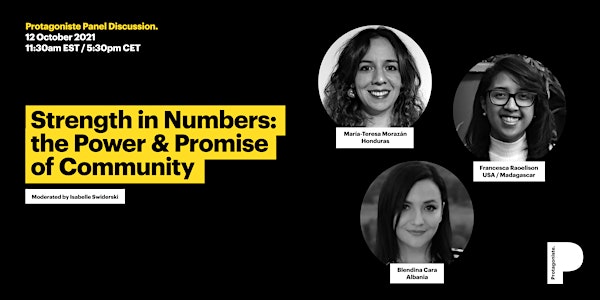 Strength in Numbers: The Power & Promise of Community
Protagoniste Network is proud to present 3 remarkable womxn as they share their perspectives on building communities of action.
About this event
Join us
We couldn't be more pleased to be gathering 3 remarkable womxn for a virtual conversation on the power and promise of community—to build resilience, to fuel movements, to make lasting change. 
From Tirana to Tegucigalpa to Madagascar, these leaders are nurturing connection. As we emerge from the initial waves of a pandemic that has been particularly devastating in its impact on the role—and the well-being—of women in society and at home, how might we turn the tide and take matters into our own hands? How might we build the social networks, frameworks, and safety nets needed for women to rise and thrive?
Through each of these unique journeys we'll get a glimpse into the challenges and opportunities that come with embracing leadership and pushing for change.
Our speakers will be:
Blendina Cara, Founder of Women Founders Albania
María-Teresa Morazán, Founder of Impact Hub Tegucigalpa & Founder of an upcoming Venture Fund
Francesca Raoelison, Founder of Omena
The discussion will be moderated by Isabelle Swiderski, Founder of Seven25 and Protagoniste Network.
Event schedule
8:30am PST / 11:30am EST / 5:30pm CET // Speaker intros and discussion
:25 – :35 // Q&A
:35 – :40 // Closing remarks
:40 – :00 // Speed networking breakouts
10:00am PST / 1:00pm EST / 7:00pm CET // Event ends
In conversation
Blendina Cara has worked for Swiss Entrepreneurship Program Albania for 4 years, supporting entrepreneurs in launching and growing their companies through technical support. Her work with Swiss EP involves developing or enhancing a self-sustained business model for the partner organizations, mentoring by enabling local organizations to setup and manage pools of local mentors and Angel Investments through activating and supporting Angel Networks. Blendina is the co-founder of Women Founders Network Albania, a community-led initiative that brings together women entrepreneurs and aspiring founders through various events.
María Teresa Morazán promotes the development of the social entrepreneurship ecosystem in Honduras, mentoring and connecting entrepreneurs and impact investors, locally and internationally. She learned the importance of entrepreneurship communities working with a social impact startup in Southeast Asia and later leading its expansion efforts to Latin America, starting in Brazil. In 2017, Maria Teresa returned to her home country and co-founded Impact Hub Tegucigalpa managing locally the IDBLab/Impact Hub regional incubation program for 30 early stage social enterprises, including weekly workshops, community meetups and a Demoday. Lately Maria Teresa manages a portfolio of startups funded by the EU to help find innovative solutions on food and nutrition security and an online course on problem solving during uncertainty, reaching +1,000 entrepreneurs from all Honduras and organizing a network of +50 mentors in partnership with the US Embassy and Impact Junkie.
Industrial Engineer and MBA from Thunderbird School of Global Management where she was honored to be a Fulbright scholar. She interned at UNDP in NYC and has experience in strategy and management consulting for large and small companies.
Francesca Raoelison is originally from Madagascar and came to the U.S. 6 years ago. She is a transfer student from the Northern Virginia Community College and a rising senior at Brown University concentrating in Sociology, with a focus on Entrepreneurship. She is the founder of Omena, a non-profit organization committed to increasing emotional abuse awareness by providing tools for students to combat and stand up to abuse. She is a TEDx speaker and has been named RI Inno under 25. Her work has been featured by MTV, The Boston Globe, supported by the Clinton Foundation and Forbes Under 30. In 2020, Omena won The Davis Project For Peace and competed for the TigerLaunch Pitch competition Final rounds at Princeton University.
In 2021, they were one of the the top 8 in the Brown Venture Prize, runner-up winner for the Bay Area Global Health Challenge 2021 and Mass Challenge Finalists.
Moderator
Isabelle Swiderski, Founder, Seven25 & Protagoniste
As a serial impact entrepreneur herself, Isabelle founded her design-for-impact agency Seven25 in 2007 to accelerate the success of values-driven organizations—whether they operate for profit or not—and to foster the emergence of a new, more equitable economy.
An award-winning designer marrying an MBA and an MA in Design, Isabelle has facilitated systems change work supporting startups, governments, foundations and ecosystem builders in over 15 countries on 4 continents in 3 languages.
A sessional lecturer at Emily Carr University for over a decade, Isabelle is regularly invited to speak and teach on topics of design-led innovation, customer discovery and impact entrepreneurship. In 2019, she founded Protagoniste, the continuous learning network for social entrepreneurs.