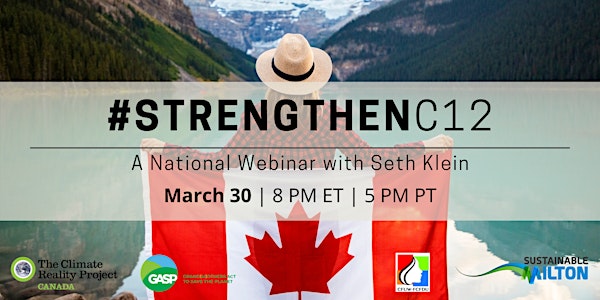 Strengthen Bill C-12 | National Interactive Webinar with Seth Klein
Join us for a national interactive webinar to explore strengthening Bill C-12 for a sustainable future in Canada featuring Seth Klein. FREE
About this event
SUSTAINABLE MILTON is inviting all Canadians to join them for a FREE, non-partisan, interactive webinar to motivate, mobilize and equip us with the information and tools we need to demand our Federal Government strengthen Bill C-12: the Canadian Net-Zero Emissions Accountability Act. SM's members have been strongly inspired by Seth Klein's book, "A Good War: Mobilizing Canada for the Climate Emergency" and we believe it will inspire others!
Seth has graciously agreed to present at our interactive webinar! During the event, we will clearly outline the short-comings of Bill C-12 and the opportunities that we can seize if we act now. Canadians want our government to move boldly and immediately on climate change. Currently, Bill C-12 is not bold or immediate. His book sends a powerful message about the creative solutions that can be deployed in the face of an emergency, turning threat into opportunity and demonstrating leadership during times of strife. C-12 has the potential to be the vehicle by which Canada shows bold climate leadership and we intend to use it!
"A Good War" identifies and explores four indicators of the Canadian Government acting in response to an emergency. We've seen it in the past, we have seen it throughout this pandemic, and we want to see it as we take action on the climate crisis. We want to ensure every Canadian understands the importance of Bill C-12 and measures the Canadian Government can use to take bold action in line with the declared climate emergency.
Share and invite your networks to join us for an evening of discussion about mobilizing in this current state of new climate denialism. We must strengthen Bill C-12 to address the climate crisis and secure sustainability for generations to come.
______________________
Seth Klein is the team lead with the Climate Emergency Unit (a project of the David Suzuki Institute) and served for 22 years (1996-2018) as the founding British Columbia Director of the Canadian Centre for Policy Alternatives, a public policy research institute committed to social, economic and environmental justice. He also serves as an advisory board member for the Columbia Institute's Centre for Civic Governance. A frequent media commentator on public policy issues, Seth regularly gives talks across the province and nationally. His research deals primarily with climate policy and climate justice, fiscal policy, taxation, welfare policy, poverty, inequality, economic security, and job creation. His research reports can be found on the CCPA's website; and his policy commentary can be found primarily on the CCPA-BC's blog.
Sustainable Milton is a grass-roots, non-profit community organization with a focus on making Milton a healthier, more adaptive, resilient and ultimately more sustainable community. We aim to achieve this through education, local action, and collaboration with like-minded organizations, the community, private businesses, and local government.