Sales Have Ended
Registrations are closed
Please registered a email will be sent with ZOOM Link, there will be a waiting. We ask that you use the Grandfathers teachings. Please email your question for all speaker to doreen@circleofwisdom.ca 1. Chief Clarence Louie 2. Pam HeavyHead 3. Ruth Scalplock
Sales Have Ended
Registrations are closed
Please registered a email will be sent with ZOOM Link, there will be a waiting. We ask that you use the Grandfathers teachings. Please email your question for all speaker to doreen@circleofwisdom.ca 1. Chief Clarence Louie 2. Pam HeavyHead 3. Ruth Scalplock
"Exploring the Western influence on Traditional ways of indigenous Peoples Of Canada"
About this event
"Strengthening our Circle through the Wisdom of our Ancestors." There is a misconception of incorporating traditional ways with professionalism in business and social agencies we work in. How do we conduct ourselves(indigenous) using traditional knowledge and ways to honor our ancestors in business and social agencies?
Through the wisdom of our knowledge keepers, we hear their stories.
Participation certication given after presentation.
Each speaker wil have 15 mins of Q & A on pre-selected questions. Please submit your questions one-day prior.
12:30 Opening Prayer & Land Acknowledgement.
12:45 Introduction of topic "Exploring the western influence on traditional ways of Indigenous Peoples of Canada"
1:00 Pam Heavyhead presentation a historical view of Indigenous peoples of Canada2:00 Chief Clarence Louie speaking on the release of his book REZ RULES3:00 Ruth Scalplock presentation on Journey to Healing in present day.4:00 Closing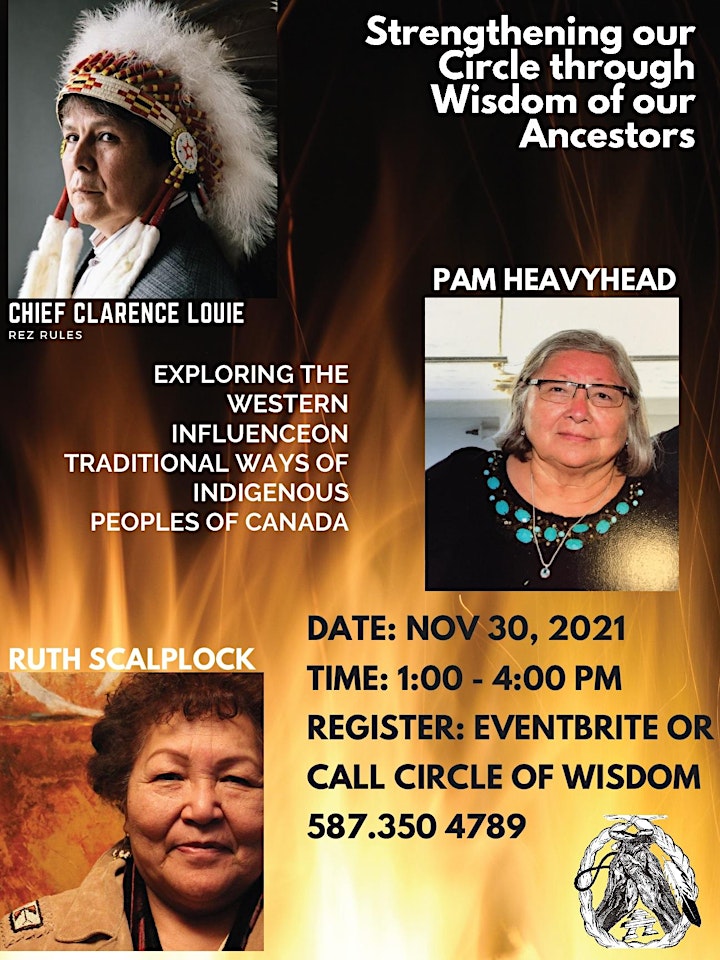 Organizer of Strengthening our Circle through Wisdom of our Ancestors
Programs
• Referrals to food, housing
• Assistance with filling out forms- government forms
• We will have food hampers and hot food once a month.
• We will have an Carya Outreach worker here if you need to talk to someone.
• Workshop on keeping safe with First Aid, Babysitting and Emergency preparedness ( with 72 hour emergency kits for each senior or household).
• Workshop on sewing a ribbon skirt, moccasins, and my favorite ribbon skirt, art(painting) and other crafts. We will be doing care kits with supplies.
• We also have gloves, face mask and hand sanitizers.
• If you need a place for meetings, please let us know.
• Conversational Blackfoot, Cree, Sualtuax, Michif, Circle to speak to other seniors.
• Grandmothers Circle- grandmother's support each other and community.