STRICTLY DA BEST EP-2 : The Old Skool Reunion Zoom Party
About this event
You asked for it!! The last Episode was EPIC you wanted more! D Ultimate Sting & DFrancisPromo's Reunion Event where good friends meet. 
At STRICTLY DA BEST Reunion Party, we are anxious to take you back as we relive music and vibe of the Good Ole Days to now. We all need a break from this Pandemic while keeping safe. 
 Djs from the ERA: make sure you follow them on Instagram
Jus Jase : (@jusjase868) | Dj Franco: (@djfranco868) | D Ultimate Sting: (@dUltimateSting) | Dj Maggie: (@djmaggie868) and Special Guest The master of old skool Dj HOWEE TEE
Soca, Reggae, Dancehall, R&B, New Jack Swing, Disco and more with that back home Caribbean Vibe!
 Event TimeZones:
Toronto/USA: 7.30pm est | Trinidad & Tobago 7.30pm | UK 12.30am
DRESSCODE RETRO/OLD SKOOL Wear (Not Mandatory but lets have some fun)
 For the Ultimate Experience:
Download The ZOOM App to your Phones, Tablet or Computer. Enter Your Username
Please DO NOT SHARE your Zoom ID and Login Information (we will not be posting on Social Media)
 Sign in early because the vibes starts from the first chune! Organize limes in your backyard, basements or living rooms with your family and or friends within your Social Bubble. Put your drinks to cold, bring out your coolers and create some dancing space to dance all night.
 Please have your CAMERA'S ON so we all can see and share the vibes. If you're camera shy, you can focus it on an item eg a Alcohol bottle, a plant, your backyard, a flag etc
 Lookout for more Episodes featuring more foundation Djs from the Era!
 New to ZOOM?
See Instructions on how to Join a Zoom Meeting:
https://www.youtube.com/watch?v=fGbpwZNW3oI
 Follow: @dultimatesting @dfrancispromo on Instagram
 JOIN Our Facebook Event Group:
Search: SUBPOENA The Reunion
Spread the word. Invite friends
STRICTLY DA BEST!.....THE BEST MUSIC.....BEST PEOPLE...BEST ERA....THE BEST VIBES!!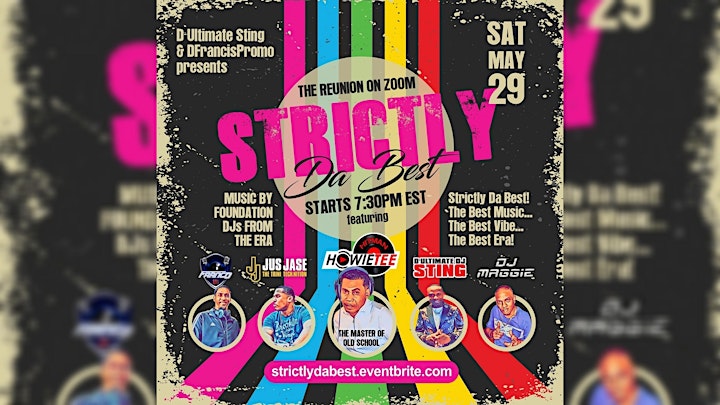 INVITE YOUR FAMILY & FRIENDS!
Organizer of STRICTLY DA BEST EP-2 - THE OLD SKOOL REUNION ZOOM PARTY