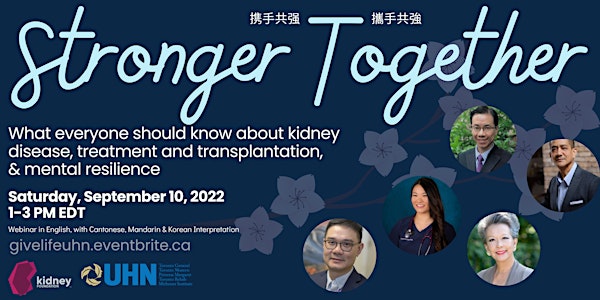 Stronger Together
What everyone should know about kidney disease, treatment, transplantation & mental resilience
About this event
Join us for an informative and interactive panel presentation moderated by Drs Chris Chan and Ken Fung.
Panelists will discuss the impact of kidney disease on mental health of patients and family caregivers; treatment options including dialysis and transplantation, the decision to seek or become a living donor and impact on health and wellness, and practical tips for building resilience.
In English, with simultaneous Cantonese, Mandarin & Korean Interpretation.
SPEAKERS & MODERATORS
Dr. Christopher Chan, Nephrologist, Toronto General Hospital
Dr. Kenneth Fung, Psychiatrist, Toronto Western Hospital
Dr. Vivienne Poy, Living Kidney Donor
Justin Poy, Kidney Transplant Recipient
Julia King, Nurse and non-directed living kidney and living liver donor
ABOUT
This webinar is part of Improving Access to Living Donor Kidney Transplantation in the Chinese Canadian Community, a research project co-led by Drs Istvan Musci (Ajmera Transplant Centre at UHN) and Samantha Anthony (SickKids) and funded by the Kidney Foundation of Canada through their Allied Health Kidney Research Grant Competition.
Contact us for more information.