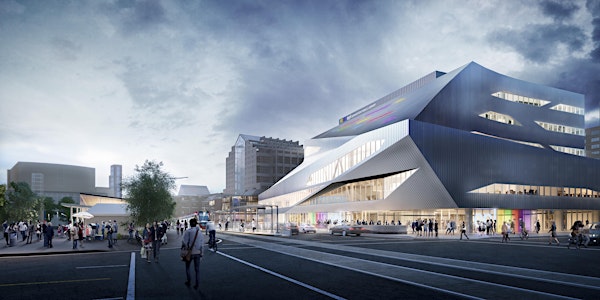 STRUCTURAL DESIGN OF THE STANLEY A. MILNER LIBRARY RENEWAL
Location
University of Alberta Faculty Club
11435 Saskatchewan Drive
Edmonton, T6G 2G9
Canada
Description
"Structural Design of the Stanley A. Milner Library Renewal"
Derek Ratzlaff, P.Eng. & Davin Lewis, P.Eng.
Fast + Epp
Abstract:
The Stanley A. Milner Library at the Southwestern side of Churchill Square in Edmonton, Alberta, will be undergoing a dramatic revitalization starting in 2017. The renovation, currently at the end of design phase, will feature three public library floors, an open atrium space connected with a reading ramp, and a dramatic new façade. The existing concrete joist floor system will also be opened up in multiple locations in order to provide a more interconnected library space.
Derek Ratzlaff, P.Eng., and Davin Lewis, P.Eng., of Fast + Epp Structural Engineers, will present on the structural aspects of various schemes that were considered during design by the team, which includes Teeple Architects and Architecture | Tkalcic Bengert. There will also be a discussion of key structural systems involved with this revitalization project, including existing footing assessments and upgrades, lateral design, existing concrete framing modifications, and the many intricacies of the new steel façade analysis and design.
Speaker Bio
Derek Ratzlaff graduated with a Bachelor of Applied Science degree from the University of British Columbia in 2004, joining Fast + Epp later that year. With a background in the construction industry, Derek contributes a strong emphasis on expressive structures that remain practical to construct. This combination of design and construction knowledge has been a key factor in the success of his projects, particularly those that involve the unique structural use of timber on a large scale.
His in-depth knowledge and experience has also enabled Derek to effectively contribute to a number of complex award-winning projects that include Grandview Heights Aquatic Centre in Surrey, BC, and Kin Centre Complex in Prince George, BC. He was appointed Senior Associate in 2016, and is the structural engineer of record for the Milner Library Revitalization.
Davin Lewis is a 2012 graduate from the University of British Columbia with a Bachelor's Degree in Applied Science in Civil Engineering. He joined Fast + Epp with experience in project management, building information modeling (BIM) systems, and structural design and analysis in steel, timber and concrete. Prior to joining Fast + Epp, Davin worked for Econ Group Construction and Development Ltd., and also worked as an Engineering Design Technologist at Westbrook Consulting Ltd. from 2009 to 2010.
By consistently pursuing design solutions that integrate multiple disciplines, Davin has contributed to the success of a wide range of projects, including Guildford Aquatic Centre, TD Bank Prototype Building, Evergreen Line Skytrain Extension, Richmond Fire Hall No. 01 and the Pacific National Exhibition Playhouse. He is currently the structural project manager for the Milner Library Revitalization in Edmonton, AB.
NOTE:
A $5 Drop-In-Fee will be added at the door for those without online registration.