Event Information
Location
On Line Webinar
http://bit.ly/2BzZKCg
Global
Description
...and staying there!
What I'm about to say may surprise you.
If you feel stuck in any area of your life, there are only two things you need to start creating what you want…
You must know (1) where you are and (2) where you want to be.
It seems so simple and obvious
So, why do most people miss it?
At first, it may seem it's because you don't know where you want to go.
But that's not the real problem.
Even if you've buried your desires so deep that you're no longer aware of their existence, they're still there. And with a little care and attention, you can uncover them.
The far bigger issue is where you are now. Not physically, but mentally.
In other words, it's where your paradigm or your programming is set. Because that's what the Universe responds to.
Your paradigm is what controls your results.
This is why you're still stuck
Let's say you want to turn your annual income into your monthly income.
You can say it as often as you want. However, it will never happen unless and until you set about changing your programming so it's in harmony with earning a much higher monthly income.
And you can't do that by simply hoping or wishing for it. You can't even do it by working harder, getting another job, or adding another source of income.
While those things might give you a temporary bump in your income, the results won't stick until you change what's going on inside.
Moving from Point A to Point B
You see, you and your thoughts are currently on a lower frequency (Point A) than your goal (Point B).
To get to where you want to be, your thoughts must rise to the same level as your goal. That's the frequency where you will get the ideas, the people and the resources you need to manifest your goal.
The only way we know of to raise your thoughts from Point A to Point B so you can attract what you need to succeed is to increase your awareness.
In fact, increasing your awareness (your consciousness) is…
The only thing you ever need to be concerned about.
Join one of Bob Proctor's leading consultants to discover the secret to getting off the hamster wheel, start doing less and achieving more success. Get UNSTUCK once and for all.
Crystal McRae, has been working for and with Bob Proctor and since then, her results and life have dramatically changed through learning these principles. From small dreams to a big reality, Crystal will show you what you need to start doing today to live a life of abundance, prosperity and fullfillment without working harder.
Anyone CAN do this, not everyone will, but YOU CAN.
Crystal McRae & Proctor Gallagher Institute
Catch this Must See Training before the event: http://bit.ly/2yTBs1Q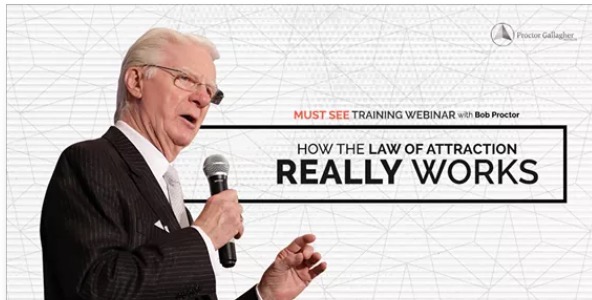 Date and Time
Location
On Line Webinar
http://bit.ly/2BzZKCg
Global