Student Rental Secrets- Learn From Student Rental Cashflow King, Jon Segui...
Description
Student rentals are an excellent way of turning a single family home from a DUD and into a cashflowing STUD!
But finding, converting and managing these types of properties can quickly turn into an Investor's worst nightmare!
Unless you are familiar with the Student Rental Secret...
And that is what our speaker for the evening, Jon Seguin, will be telling us all about!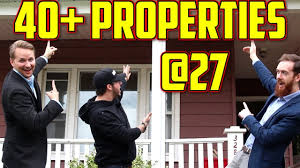 Jon , also referred to as the Cashflow King, is the owner of Seda Developments and a successful real estate investor focusing on student rental properties.
Jon has had huge success with flipping student rentals to create high-end student rentals that cash-flow much higher than average and has replicated this model numerous times by himself and with JV partners!
Jon will be speaking about the Windsor student market - what's changed and what's expected for the future, how to get quality tenants, premium vs standard vs substandard rentals, changes in regulations, how to find good properties, and much, much more.
This is an event you do NOT want to miss!
Networking 7-7:30

Presentation will start at 7:30 SHARP!

$30 on-line EARLY BIRD PRICING BEFORE MARCH 15TH

$35 on-line after MARCH 15TH

$40 at the door
* THERE WILL BE A PRIVATE MASTERMIND SESSION PRIOR TO THE EVENT FROM 5:30-6:30 COST IS $50 (includes event entry) AND MUST BE PAID ON-LINE PRIOR TO THE EVENT. SPOTS ARE LIMITED

What is a Mastermind group?


The purpose of the Mastermind is to get a small group of SERIOUS game changers and Investors together to share their goals and ideas. As everyone gets a chance to share what they are trying to accomplish, the group chimes in with their perspectives and helps create growth and change for all participants.

Jon will be in attendance facilitating this group alongside our other experts, to offer his input and expertise! This is your chance to have an expertand one of the best minds in the business in YOUR Inner Circle!

Appetizers and refreshments will be provided!


We look forward to seeing you there!

Monika & Vaughan