Multiple Dates
Student Speaker Series - Winter 2021
Student Speaker Series: Showcasing the work of BIPOC student researchers at OISE, University of Toronto
About this Event
The OISE Centre for Indigenous Educational Research is very happy to present Student Speaker Series, an exciting series of talks by BIPOC student researchers at OISE, University of Toronto.
You are welcome to come find out more about the student speakers' work and research, to ask questions, and to engage in positive community discussion on various topics.
We have multiple events coming up throughout the winter semester. Details about upcoming events can be found below. Be sure to check back often to learn about any other student speaker events that are planned!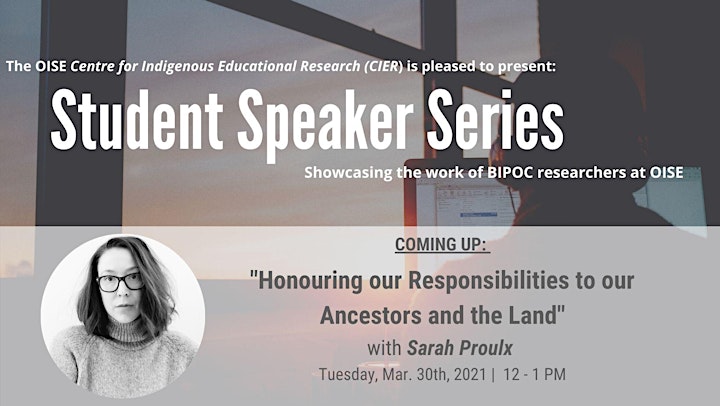 Honouring our Responsibilities to our Ancestors and the Land
with Sarah Proulx
Date: Tuesday, March 30th, 2021 | 12-1pm
ABOUT SARAH :
Sarah Proulx is Anishinaabekwe from the community of Shebahonaning situated on the shore of Georgian Bay. The territory is known today as Killarney Ontario and is governed by a settler-colonial municipal government and a provincial park. She has an undergraduate degree in socio-cultural anthropology and archaeology for which she undertook fieldwork in Greece and Peru. She has a master's degree in museum studies where her research focused on the relationship between anthropologists, settler-colonial institutions, and First Peoples and the politics of repatriation. For the last five years she has been working as a field archaeologist, material culture analyst, and researcher.
Her doctoral research is a land-use and occupancy study within her home community. The project will document past and contemporary land-use practices spanning thousands of years. This project stemmed from an increase in commercial and residential development within the community that is responsible for the destruction or disturbance of archaeological, sacred, and burial sites. While advocating for the protection of these sites many other issues arose such as Indigenous autonomy, cultural revitalization, knowledge preservation, community representation, and the ongoing dispossession of lands.
ZOOM MEETING DETAILS
Zoom Link: https://oise-utoronto.zoom.us/j/84210705906
Meeting ID: 842 1070 5906
Past Speakers and Event Recordings:
1) Yecid Ortega
Doing Ethnography Back Home (December 8th, 2020)
Recording: https://www.youtube.com/watch?v=YDTPHEHa-rc&t=3151s
2) Ian McCallum
Indigenous Language Work, Teaching, and Distance Learning: Sharing ideas and practice from work during the COVID-19 pandemic (February 5th, 2021)
Recording: https://www.youtube.com/watch?v=wAA3Oe9vaPE&t=12s
3) Heather Watts
Reconciliation: A Commitment to Relationship (February 11th, 2021)
Recording: https://www.youtube.com/watch?v=xOrXkmGvu9I&t=11s
4) Red Bear Robinson
Storytelling Method, a New "Very Old" Method of Teaching and Learning Ojibway (February 16th, 2021)
Recording: https://www.youtube.com/watch?v=a2i5CKUDjIQ&t=7s
5) Neil Ramjewan
Losing Innocence: Settler Reconciliation and Figures of Childhood (March 4th, 2021)
6) Angelique Belcourt
"Takiskimsoyahk - To Know Ourselves: Métis Youth in Conversation" (March 11th, 2021)
7) Lucy El Sherif
"Your White Tears Aren't Sacred, This Land Is": Spatial Relationships to Land and Nation in the Canadian Citizenship Study Guide and Oath (March 16th, 2021)
8) Pamelia Khaled
A Comparative Inquiry into Religious and Secular Students' Perspectives on Peace and Conflict Resolution Through Science Education in Bangladesh (March 16th, 2021)
Recording: https://youtu.be/uNeIfl2tUOk