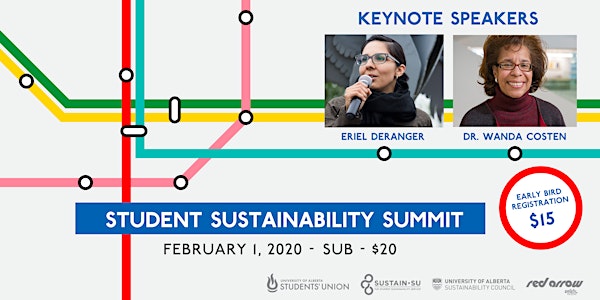 Student Sustainability Summit 2020
University of Alberta's Sustainability Council and Sustain SU
Event Information
Location
Students' Union Building
8900 - 114 Street NW
Edmonton, AB T6G 2J7
Canada
The Student Sustainability Summit is a one-day gathering for students from across Alberta to talk about Sustainability.
About this event
The Student Sustainability Summit is a one-day gathering for university and college students from across Alberta. Whether you are curious to learn more about sustainability, or you are already deeply involved, the summit will open doors and inspire you to go further. Gain the resources, networks and professional development opportunities you need to become the sustainability leaders we need in Alberta.
Engaging sessions with experts, community advocates and local changemakers.
Connect with college and university students from all across Alberta. Meet future solar engineers, craft brewers, social workers, urban planners, journalists, future nurses, conservationists, entrepreneurs, and more.
Breakfast and lunch are included, all deliciously vegetarian or vegan-friendly.
Mind the Gap
How can we help students mind the gap between the unsustainable present and the viable future we are working towards? At the 2020 Student Sustainability Summit, post-secondary youth from across the province will confront issues in the present, envision the future we want, and learn from people who are already bridging the gap. We invite you to join our workshops, panels and presentations that tackle the following themes.
The present: It's becoming increasingly clear our present is unsustainable. What is our current state of action on climate change, human rights, biodiversity and food security? How can students understand the real facts, and see through the greenwashing, misinformation or government spin? What makes our current systems unsustainable?
The future: What will a sustainable future look like? What will be different in a sustainable future — on campus, in the city, in Alberta and beyond? What sorts of practices and knowledges will form the foundations of a sustainable future? How will we make and keep climate, food security, human rights a priority? What are the structures that will be required to build and maintain a sustainable future?
Bridging the gap: How do we move towards a sustainable future? What are the gaps between our present and a sustainable future? What are some of the ways that communities, start-ups, social movements, academics, Indigenous communities and others are bridging these gaps? What are some actions we can take to begin bridging this gap?
FREQUENTLY ASKED QUESTIONS
Who is eligible to attend?
Students with all levels of sustainability experience and knowledge are encouraged to apply. The only requirement is that you be currently enrolled in any Alberta post-secondary institution.
I live way to the south / north of Edmonton. How can I get to the summit?
Thanks to our partner Red Arrow Motorcoach, we can offer free return bus trips to the summit from: Calgary, Camrose, Cold Lake, Fort Mac, Grande Prairie, Lethbridge and Red Deer.
Seating is limited and will be distributed on a first-come, first-served basis. Please indicate your interest during registration.
Does this event offer billeting?
You can join our Facebook group to offer or request billeting from other attendees who are based in Edmonton.
Please note that the organizers cannot guarantee you a billeting spot and that this Facebook group runs independently from the organizers.
Is this an accessible event?
The venue will be physically accessible, and is close to an Edmonton Transit System LRT station.
We also do not want financial need to prevent anyone from attending the summit. If the registration fee impacts your ability to attend, please email michelle.kim@su.ualberta.ca to learn what options are available.
I don't have a credit card. Help!
Date and time
Location
Students' Union Building
8900 - 114 Street NW
Edmonton, AB T6G 2J7
Canada
Refund policy