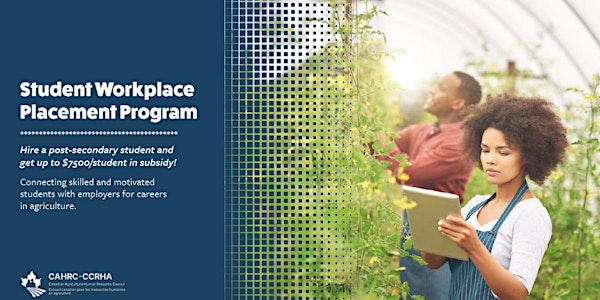 Student Workplace Placement Program - by CAHRC. A session for employers.
Are you an employer? By entering this program, CAHRC will help you hire a post-secondary student - up to $7,500/student subsidy.
About this event
if you aree an employer, please, join the Canadian Agricultural Human Resource Council (CAHRC)to learn on their initiative to develop the workforce the Canadian agriculture needs.
A recent study conducted by CAHRC indicated that by 2029 there will be a shortfall of 123,000 Canadians to fill available positions. CAHRC has launced the Student Workplace Placement Program (SWPP) specifically designed to connect skilled post-secondary students with employers for careers in agriculture.
This program will attract talent from business and STEM faculties to local employers to provide valuable, hands-on training to future graduates and develop the workforce needed by the agricultural industry. The project will foster increased diversity in the agri-workforce by encouraging participation of under-represented groups such as Indigenous students, women, first-year post- secondary students, students with disabilities and newcomers to Canada. By hiring students, employers benefit from new perspectives and ideas and will qualify for a wage subsidy up to $7500. At the same time students build long-term connections for future employment and growth throughout Canadian agriculture.