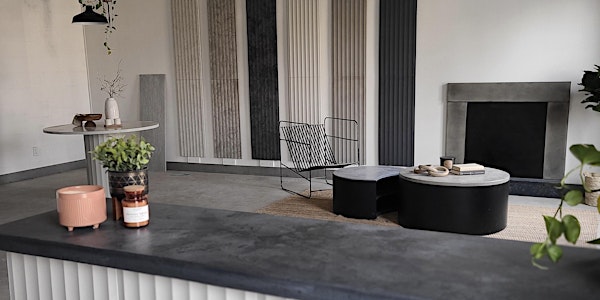 Studio Tour: Crete Collective & Forge 53°
Attend a tour of Crete Collective and Forge 53°'s studios and learn about what they do.
When and where
Location
Crete Collective 9807 47 Avenue Northwest Edmonton, AB T6E 5M7 Canada
About this event
As part of Edmonton Design Week 2022, a series of Studio Tours at various design firms will take place around Edmonton. This year's design week theme is RECESS - a call to take a break from the daily grind and have some fun exploring art and design.
--
Stop by Crete Collective and Forge 53°'s studio tours on October 15, from 4-6pm and learn about all of the amazing things that they do!
Crete Collective (pictured above) - 9807 47 Ave
Crete Collective is an Edmonton based custom concrete design and manufacturing company. Their focus is creating functional concrete products with architectural design at the forefront, drawing inspiration from European designs. They specialize in utilizing brilliant colours and the free form of concrete to make an array of sinks, furniture and wall panels.
Come hear Founder/Owner, Sam Wilkins speak about Crete Collective.
Forge 53° (pictured below) - 9803 47 Ave
Forge 53° is a Canadian architectural metalwork firm founded in 2014 by childhood best friends Mike Muirhead and Jesse Rudiger-Aasgard. Having previously established Forge North Services, a successful metal fabrication company, they noticed an increasing demand for industrial-style furnishings. Driven by this growing market, Mike and Jesse made the transition from tradesmen to craftsmen. Inspired by the Canadian landscape, history, and industry, Forge 53° now specializes in architectural metalwork, custom furniture, and interior design features. All of the product design and fabrication takes place in Edmonton, Alberta, located on the 53rd northern parallel. Mike and Jesse's love of their hometown is saturated into the entirety of the Forge 53° lineup; products and projects are named after historic Edmonton streets, municipal landmarks, Canadian ghost towns, bridges, and friends.
Come hear Founders Mike and Jesse speak about Forge 53°, and get a first look at the renovated studio space!
MADE MEMBERSHIP
You can become a MADE Member for only $25 a year ($15 for students) and receive first access and discounts to our events. Find out more information here.
*A big thank you to our EDW sponsors - City of Edmonton, Edmonton Arts Council, Edify, Downtown Business Association, Dub Architects, GEC Architecture, HSEArchitects Schutz Canada