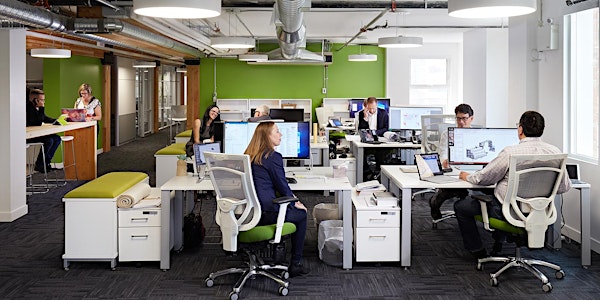 Studio Tour: Next Architecture
Attend a tour of Next Architecture's studio and learn about what they do.
When and where
Location
Next Architecture 10526 Jasper Avenue #302 Edmonton, AB T5J 1Z7 Canada
About this event
As part of Edmonton Design Week 2022, a series of Studio Tours at various design firms will take place around Edmonton. This year's design week theme is RECESS - a call to take a break from the daily grind and have some fun exploring art and design.
--
Next is more than an architectural practice – It's an attitude of possibility.
Stop by for a behind-the-scenes look at Next's modest studio located within the historic Alberta Block Building and hear about what makes their approach to making buildings the way of the future.
Next Architecture (2008) was born out of Rule Wynn and Rule (1938), one of the longest continuously operating architectural firms in Alberta. They have deliberately set out to extend their bold vision and audacious commitment to innovation by adopting and inventing technologies and processes that enable increasing cost certainty, schedule predictability, and preservation of quality for our clients and collaborators.
Some of their Edmonton projects include:
MADE MEMBERSHIP
You can become a MADE Member for only $25 a year ($15 for students) and receive first access and discounts to our events. Find out more information here.
*A big thank you to our EDW sponsors - City of Edmonton, Edmonton Arts Council, Edify, Downtown Business Association, Dub Architects, GEC Architecture, HSEArchitects Schutz Canada
SPEAKER BIOS
Allan Partridge, Partner, Architect, AAA (Life Member), AIBC, FRAIC, CAHP, SCO
Allan has been a practicing, Registered Architect for 37 years, and reached the significant milestone of 50 years working in the industry this year. He continually explores and implements methods using emergent technologies to overhaul and re-fabricate architectural practice including the way architects design and increase their effective involvement in construction through nonstandard means. Allan is well respected within the industry locally and internationally, having contributed to a variety of projects from heritage conservation, including the Alberta Block Building, to public space-making such as Sir Winston Churchill Square.
Scott Hawryluk, Principal, CanBIM P3
Scott is a multi-skilled Project Manager and Architectural Technologist with comprehensive experience in design, construction documentation, and construction administration. Within Next, Scott's primary role is that of a Principal and Digital Practice Leader, providing training for all colleagues and ensuring our foundational practice, processes, and tools are world-class. His leadership is vital in our delivery and development of Model Based Project Delivery in architecture at Next, and our move away from archaic, 2D content.