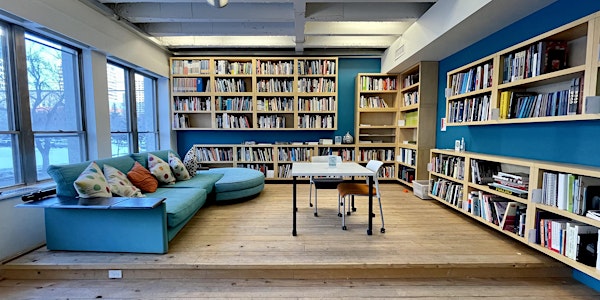 Studio Tour: Reimagine
Attend a tour of Reimagine Architect's studio and learn about what they do.
When and where
Location
Reimagine Architects Ltd. [formerly Manasc Isaac Architects] 10225 100 Avenue Northwest Edmonton, AB T5J 0A1 Canada
About this event
As part of Edmonton Design Week 2022, a series of Studio Tours at various design firms will take place around Edmonton. This year's design week theme is RECESS - a call to take a break from the daily grind and have some fun exploring art and design.
--
Creating joyful journeys toward regenerative architecture.
Stop by Reimagine Architecture's open house and studio tour on October 14, from 4-5pm and learn about all of the amazing things that they do!
The Reimagine team celebrates joyful journeys toward regenerative architecture. They specialize in community-building, and this practice starts at home, in a downtown Edmonton studio. Their studio is not only a testbed for the innovation they undertake in their work, but it's also where they celebrate one another and the unique culture of their team. The recently-renovated studio includes a green wall, in-house library, workshop space, and a VR facility.
Some of Reimagine's Edmonton projects include:
MADE MEMBERSHIP
You can become a MADE Member for only $25 a year ($15 for students) and receive first access and discounts to our events. Find out more information here.
*A big thank you to our EDW sponsors - City of Edmonton, Edmonton Arts Council, Edify, Downtown Business Association, Dub Architects, GEC Architecture, HSEArchitects Schutz Canada
BIOS
Vedran Škopac is an internationally recognized architectural architect known for his leadership, team support, innovation, and execution of projects with regional impact. The most recognizable design he delivered in Canada include Eastgate Offices, priMED Mosaic Centre, Red Deer Polytechnic Student Residence, Northern Lakes College High Prairie Campus, Muttart Urban Design, and Concordia University of Edmonton New Academic Building.
Vedran works as the Principle of Reimagine Architects, where he is interested in innovating architectural typologies to cultivate greater sustainability, and improve people's mental health and well-being. He is known for bringing the best out of people, and maximizing his team's performance, ... and fun. In his work, he loves turning socio-economic and environmental obstacles into advantages. Always enthusiastic to help, he volunteers in the community-focused organizations, helps with teaching in schools of architecture and design and delivers public talks from Vancouver to Vienna.
Cody Jew is an accomplished architect with a background in civil engineering. His extensive education and wide-ranging work experience, along with his keen interest in art and technology, are the reasons for of his success as Reimagine's VR, AR, and Physical Model-Making Lead.