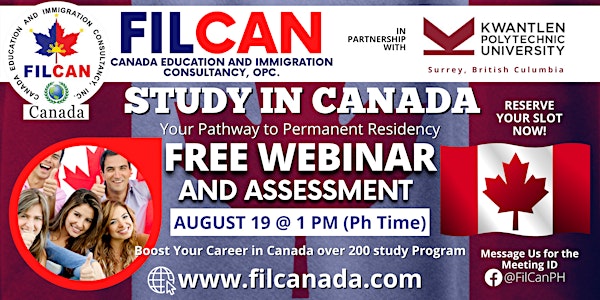 STUDY AND WORK IN CANADA FREE WEBINAR AND ASSESSMENT
STUDY AND WORK IN CANADA Your Pathway to Permanent Residency Join us - FREE WEBINAR ON AUGUST 19 at 1 PM Saturday (Philippine time)
About this event
STUDY IN CANADA - KWANTLEN POLYTECHNIC UNIVERSITY is FILCAN Canada Partner School in British Columbia.
✅✈️Over 200 study programs to boost your Career in Canada. We will process your Letter of Acceptance.
📌🍁Join us - FREE WEBINAR ON AUGUST 19 at 1 PM (Philippine time)
Be Professionally guided - YOU CAN BE OUR NEXT CANADA VISA GRANTEES!
Reserve your slots now : PM Madellene Matienzo Puig and Vincent Tirador Puig for the meeting ID via ZOOM
✅🍁 Your pathway to permanent residency in Canada in 3-4 years upon arrival.
✅🍁 Fastest entry to study and work in Canada for you and your family
✅🍁1-3 Years opportunity to work full time under the Post Graduate work permit (PGWP) after graduation.
✅🍁 FREE Canadian education for the accompanying children from elementary to high school
✅🍁 FREE comprehensive health benefits for the entire family
✅🍁 Full time work opportunity for the accompanying spouse under the Open Work Permit . No need to have a canadian employer for the visa processing.
BE PROFESSIONALLY GUIDED....
YOUR SUCCESS
... Our Commitment
... Our Legacy!
www.filcanada.com