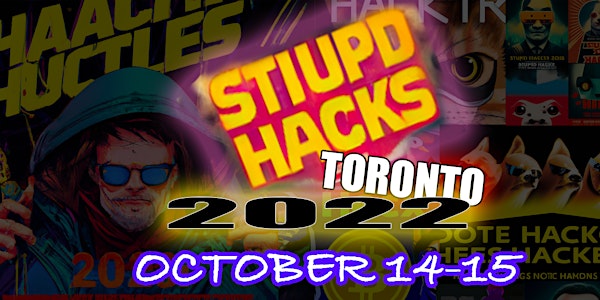 Stupid Shit Nobody Needs and Terrible Ideas Hackathon 5.0
Technology. Since the Ancient Times it has only ever done objectively good stuff for everyone.
When and where
Location
192 Spadina Ave. Unit 001 Toronto, ON M5T 2C2 Canada
About this event
The Stupid Shit No One Needs & Terrible Ideas Hackathon Toronto: a hackathon dedicated to creating things that have absolutely no value, hosted by CSI & TTL. The weird Canadian cousin of stupidhackathon.com.
Find us at: hackstupid.com
Hack Stupid with us on Twitter
You can make whatever you want as long as it works and contributes nothing whatsoever to the world.
SUGGESTED CATEGORIES 
- Prompt Engineering
- Collaborating with dictators
- Big ship stuck enemies to lovers
- How long is a TikTok
- Things that seem immoral, but actually are
- A startup for podcasts about the podcast "startup"
- The Best Thing On AliExpress
- Gamifying The Torment Nexus
- HAL-conomics
- Sorry To Bother Uwu
- The Meta-vorse
- Roomba waifu
- Look into the robot as the robot LIDARS you
- AI Gives You Bangs
Come with a team or meet new people to create a stupid, terrible idea that nobody needs! At the end of the day everyone will present their stupid terrible nonsense off at our Stupid Job Fair.
You can buy a ticket to participate in the hackathon and present your project OR if you'd just like to be very very very impressed, come to watch the presentations at the Stupid Job Fair. Bring your friends!
A hardware library with cameras, Arduinos, Cutting Edge "Electronic" Sensors, and more will be available for creating your stupid pointless garbage idea.
No tech expertise required! Bring us fresh eyes unsullied by the Status Quo. Bring us your fearless, innovative hearts and paradigm-bludgeoning minds. We need progammers, designers, comedians, videographers, artists, thought leaders, ideationists, neolibertarian techno-utopian oversimplifiers, the REAL HEROES, and YOU!
-SCHEDULE-
FRIDAY OCTOBER 14:
7:00pm-10:00pm: hangouts, friend making and SNACKS *~BRAINSTORM~*
SATURDAY OCTOBER 15:
10:00 am: coffee coffee coffee coffee from our pals The Maker Bean  and some snacks
10:00 am- 12:30: HACK HACK HACK
12:30ish: We give you a burrito (free with cost of entry)
1:00pm - 7:00 pm: Hacking, building, filming creating your stupid shit
7:00 pm-10:00 pm: Stupid Job Fair: Presentations, beers & snacks & pizza. TELL YOUR FRIENDS!!!
Interested in volunteering to help make this happen? Fill this out and we will bother you with tasks.
We encourage all Stupid Ideas as long as they are not homophobic, transphobic, racist, ablest, misogynistic, or harmful perpetuation of stereotypes
COVID POLICY
This is the only part of the event where we encourage you not to be stupid! Though we cannot guarantee a COVID-free space, this information is being provided so you can assess the risk and make an informed decision.
- Masking with an N95 during the event is mandatory. We will have enough high-quality N95 masks on hand for all attendees in case you forget yours, or don't have one. We want to create an inclusive space where immunocompromised folks feel safe attending, and the best science points to masking being our best bet for having everyone who wants to attend feel safe.
- We strongly encourage testing with a Rapid Antigen Test (RAT) before the event. We'll also have plenty of tests on hand as well in case you're feeling a little off and want to double check!
- If you have any of the symptoms listed on this page that aren't linked to a pre-existing condition such as seasonal allergies, please for the love hate of Bezos, stay home!!
Our awesome hosts, CSI, will be making sure the ventilation system has fresh filters and is adjusted to provide optimal airflow.
If you have any questions or concerns about the COVID policy, please send us a message at team@hackstupid.com at least 24 hours before the event so we can help accommodate your needs!
THIS EVENT IS A COLLABORATION BETWEEN DAVE COX, LEE WILKINS, HILLARY PREDKO, NADINE LESSIO, SAGAN YEE, ALEX LEITCH, KYLE CHISHOLM, MATT GUTHRIE, TIM WILSON, CSI SPADINA AND A CREW OF OTHER FUN COOL PEOPLE THANKS TO OUR SPONSORS.