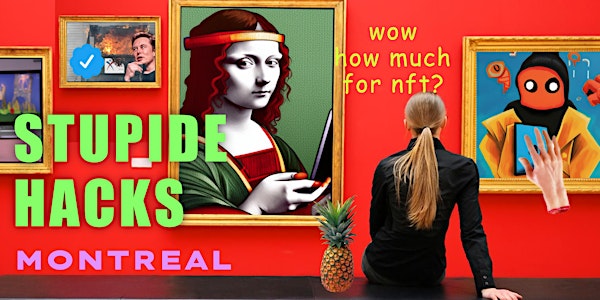 Stupide Shit Nobody Needs and Terrible Ideas Hackathon MTL Edition
A hackathon dedicated to creating things that have absolutely no value. No skills required—ideas can be a piece of paper or robots!
When and where
Location
District 3 Innovation Centre 1250 Rue Guy #Suite #600 Montréal, QC H3H 2L3 Canada
Refund Policy
Contact the organizer to request a refund.
Eventbrite's fee is nonrefundable.
About this event
12 hours 30 minutes

Mobile eTicket
The Stupid Shit No One Needs & Terrible Ideas Hackathon Montreal: a hackathon dedicated to creating things that have absolutely no value.
NO TECH KNOWLEDGE OR SKILLS REQUIRED: This is your chance to make anything your heart desires, as long as it has absolutely no value to anyone on this planet. We want to see everyone jump in! Whether you just build a simple slide deck or you whip out some electronics, as long as the idea is completely irrelevant and unnecessary, any skill is welcome.
Hosted by Pragmatics Studio. The French Canadian distant relative of stupidhackathon.com.
SUGGESTED CATEGORIES
NFT: No Fun-gible Tokens
Your Metaworst nightmare
The wrong Amazon is burning
Getting VCs for your FartUp
"Angel" Investors: Get money from the great beyond
Verify your verification's verification for an extra $8
TFA: Two-Hundred Factor Authentication
Apple Spoon: The ultimate digital diet companion
Driving under the influencers
Oculus Thrift
Ok Poodle, play me a song
How much does an Instagram weigh?
Send toasters to machine learning school
FTX FTW!!!!!!
Artifacial Intelligence, the ultimate spa treatmen
Snap, Crackle, Pop, Kellog's RiceCRISPRs
WHAT WE'RE MAKING: Come with a team or meet new people to create a stupid, terrible idea that nobody needs! You can represent your stupid, terrible idea that nobody needs in any way you want: Make an app! A website! A French new-wave film starring Scraps, the wise-cracking porcupine with a heart of gold! A paper prototype! An interpretive dance performance! A robot! A TED talk! A meal! An assemblage of junk held together with hopes and dreams! A comic book! Anything, and everything… all of the time!
At the end of the day everyone will present their stupid terrible nonsense off at our Stupid Job Fair. Get your tickets to participate in the hackathon and present your project.
EVERYONE IS WELCOME: No tech expertise required—or any expertise in any domain! Bring us fresh eyes unsullied by the Status Quo. Bring us your fearless, innovative hearts and paradigm-bludgeoning minds. We need programmers, designers, comedians, videographers, artists, thought leaders, ideationists, neolibertarian techno-utopian oversimplifiers, the REAL HEROES, and YOU!
FOR HARDWARE HACKERS: If you want to mess around with hardware, please bring your own devices, arduinos, wires, components, etc. There will be a makerspace where you can solder and work on high benches, but it has very limited resources.
IF YOU LIKE TO WATCH: Come to the presentations at the Stupid Job Fair. Bring your friends! You'll be very very very impressed.
SCHEDULE
9:30 am: Coffee + Breakfast + Meeting peeps
10:00 am- 11:00: TEAM FORMING + BRAINSTORMING
11:00-12:00: Start hacking stupid shit
12:00: We give you food (free with cost of entry)
1:00pm - 7:00 pm: Keep on hacking, building, filming creating your stupid shit
7:00 pm-10:00 pm: Stupid Job Fair: Presentations, beers & snacks & dinner. TELL YOUR FRIENDS!!!
We encourage all Stupid Ideas as long as they are not homophobic, transphobic, racist, ablest, misogynistic, or harmful perpetuation of stereotypes
COVID POLICY
This is the only part of the event where we encourage you not to be stupid! Though we cannot guarantee a COVID-free space, this information is being provided so you can assess the risk and make an informed decision.
Masking is not mandatory but if you feel more comfortable wearing a mask, please do. There will be free masks at the building lobby that you can take.
We strongly encourage testing with a Rapid Antigen Test (RAT) before the event.
If you have any of the symptoms listed on this page that aren't linked to a pre-existing condition such as seasonal allergies, please for the love hate of Bezos, stay home!
If you have any questions or concerns about the COVID policy, please send us a message at team@stupidehacksmtl.com at least 24 hours before the event so we can help accommodate your needs!
THIS EVENT IS A COLLABORATION BETWEEN PRAGMATICS STUDIO, LEE WILKINS, KYLE CHISHOLM, DISTRICT 3 INNOVATION CENTRE AND A CREW OF OTHER FUN COOL PEOPLE THANKS TO OUR SPONSORS.