| | |
| --- | --- |
| Subtle Technologies Festival 2013: June 7 - 9 | |
Event Details
Explore the Art and Science of IMMORTALITY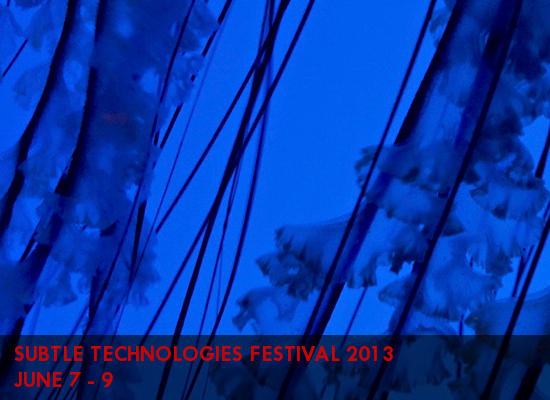 This year we explore the art and science of Immortality. Through presentations, panels, a workshop, exhibition and screening, we investigate ways in which artists explore archiving memories; scientific techniques for bringing extinct animals back to life; our search for extending youth; ancient landscape as sonic memory; vampires in pop culture and much more!

To see the full festival schedule, visit our website.
Friday, June 7 | 7:00PM - 10:00PM | Beaver Hall Gallery
Exhibition: The Beyond Category / Opening Party 
The Beyond Category
muses on surpassing the thresholds that define our mortal existence. What are the criteria for being in a beyond? Imagining the self as medium; its expression travels to the shores of forever…
Featuring artworks by David Khang, Scott Kildall / Nathaniel Stern, John Paul Robinson and Alan Sondheim

Curated by Willy LeMaitre
On view at the Beaver Hall Gallery from June 7 – 16
Gallery Hours: Noon – 5pm | Wednesday – Sunday (closed Monday & Tuesday)
*Open until 7:30pm on Saturday, June 8 for Pre-Screening viewing.
 
Saturday, June 8 | 10am – 5pm @ Ryerson University
John Paul Robinson: The Amber Archive
 Line Dezaindre: Les ateliers Angus: individual and collective memory in the digital age
 Atanos Bozdarov: DNA "Mating Call"
 Scott Kildall: Tweets in Space

 Hendrik Poinar: 

DNA from Fossils, Time Travel and De-Extinction
 Britt Wray: Undoing Forever: A live radio documentary presentation about bringing extinct species back from the dead
 Ryan Jordan: retro-death-telegraphy
Saturday, June 8 | 7:30PM – 10:00PM @ OCAD University
Film Screening of The Singularity + Presentation & Panel Discussion
The Singularity is defined as the point in time when computer intelligence exceeds human intelligence. This notion of superhuman machines has long served as fodder for tales of science fiction. Yet most scientific leaders argue that these changes are inevitable, based on the accelerating rate of technological progress. Ultimately, if we become more machine-like, and machines more like us, will we sacrifice our humanity to gain something greater? Or will we engineer our own demise? THE SINGULARITY is a comprehensive and insightful documentary that asks the question: what kind of humans do we want to become?
Presentation by 
Randal A. Koene: 
Neural Interfaces, Neuroprostheses and Whole Brain Emulation
Panel Discussion with filmmaker, 
Doug Wolens, Randal A. Koene and Trevor Haldenby. Moderated by Greg Van Alstyne
This film screening event is presented in collaboration with sLab at OCADU. http://slab.ocad.ca/
Sunday, June 9 | 11:00am – 4:30pm @ Ryerson University
Alan Sondheim: Digital and Physical Collapse
Scott Menary: Born in the Big Bang – Neutrinos – The Ultimate Immortals
David Khang: Amelogenesis Imperfecta / Beautox Me!
Don Hill: sound landscape memory
Myriam Nafte: Trophies and Talismans: The Traffic of Human Remains
Veronica Hollinger: "We Will Be Different": Some Notes on Science Fiction and Immortality

Panel Discussion: Veronica Hollinger & Eric Boyd. Moderated by Roberta Buiani

Thursday, June 6 | 6:00PM - 10:00PM @ InterAccess
Pre-Festival Workshop retro-death-telegraphy with Ryan Jordan
retro-death-telegraphy is an experimental workshop where participants will explore and build a range of devices which have at some point been believed to have the potential to aid in communication with the afterlife. 
For more info: http://nnnnn.org.uk/doku.php?id=retro-death-telegraphy
This workshop is presented in collaboration with InterAccess. http://interaccess.org/

Regular - $55
InterAccess Members - $45
*This is a small workshop with limited spots available.

Where

Various Locations
See http://subtletechnologies.com/festival for details
Toronto, Ontario
Canada