Succeed as a Software-Testing & Quality Assurance Analyst April 2018
Description
Our Staff at MCIT team is working hard to deliver the best "QA"training in Quebec, and we invite you check out our open house on how to succeed in Software Testing & Quality Assurance. We invite you to meet our subject matter experts and extract the best industry information that you might need to succeed in the QA market.
How can you succeed in Quality Assurance

Come join us for an info-session, where you can also meet our Industry-expert Instructors and know more about pipelines, processes and Industry standard workflows. Our dedicated staff have you covered in case you have questions about Loans and Scholarships.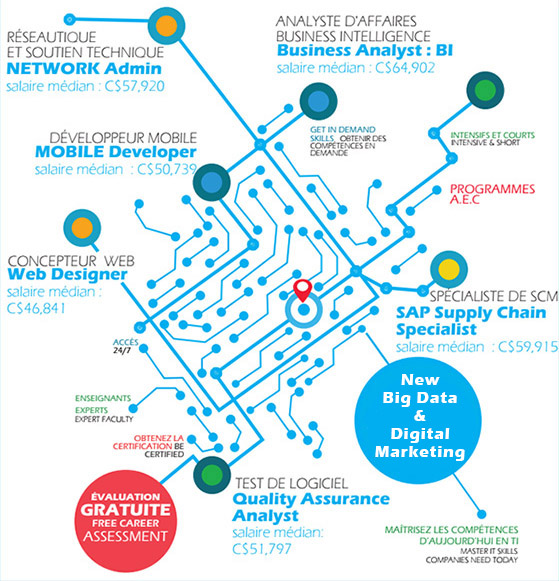 Our Software Testing and Quality Assurance program has been established for professionals who are seeking to set foot in the world of Software Testing and Quality compliance. Software Testing Technicians conduct trials of newly-developed software for employers, ranging from software publishers and video game developers to financial institutions and medical research companies. The primary objective of a STQA professional is to detect bugs and performance issues before a product reaches the consumer. The common approach for software testers is to develop and run software test plans, interact with design teams and submit detailed reports of their findings. As the computer industry shows no signs of slowing down, arm yourself with skills to stay ahead.
Who should do this program?
Anyone looking to have a career in Quality Assurance, Systems and Application Validation, Software Testing, Video Games, Usability, Test automation, Testing tools & techniques, Mobile development cycles, Test based development will be a good fit. The good news is that network administration positions are open to individuals of all education levels. Typically aimed at detail-oriented individuals, with a penchant for identifying bugs.

What will you learn?
This course provides a solid view of Software Testing. A complete picture of the testing process, development life cycles, Scope and prioritize testing activities, and techniques to use for optimal results. This software-testing training begins with a deep-dive into the Universal Testing Method and follows with a close look at testing phases, testing approaches, non-functional testing, and testing for different platforms.
Event Program:


Greetings and networking

Introduction to Business Analysis

Program details

Jobs and opportunities

Prerequisites

Enrollment & Finance options

Question time

Career advice



FAQs
How do I get there?
MCIT can be reached easily by public transportation. The institute is located few steps away from:

By metro: stop at McGill metro station, exit from the Promenades Cathédrale, and cross Rue Sainte-Catherine;
By bus: Bus 61/168/420 on Boul. Robert-Bourassa; Bus 15 on Rue Sainte-Catherine;
How can I contact the organizer with any questions?
If you have any question you can contact the organizer anytime:
By phone: Monday to Friday from 9.00am to 4.30pm at (514) 312-2383;
By email: info@montrealcollege.ca
In person: you can request an appointment with a member of our team. They'll be happy to meet you and answer all your questions. Also, you can come and visit us at 1255 Boulevard Robert-Bourassa Suite 502 from Monday to Friday from 9.00am to 4.30pm.