Succeed in Networking & Security- Info session April 2018
Description

Our Staff at MCIT team is working hard to deliver the best "Network Admin"training in Quebec, and we invite you check out our open house on how to succeed as a Network Admin.
We welcome you

to meet our subject matter experts and extract the best industry information that you might need to succeed in the market.


How to succeed as a Network Admin
Several companies are now moving to cloud computing. Get a sneak peek of how it operates or learn more about Cyber Security and its advantages. Register for this event if you wish to gain Networking knowledge and you are keen for Cloud Computing or Cyber Security courses.

Join us for an educational Saturday to get a glance and meet with our subject matter experts. If you are looking for a place to start then call us now and check what our Cloud Program and Courses has to offer.

Click the "register for info-session" button to register. Please note that you can only sign up for one session per morning.
This is where you can meet experts and get an instant opinion about your background and future career. Learn more
Cloud Computing is now changing the IT industry and opening new rewarding career opportunities for IT professionals in Canada, USA, and all over the world. Join us in this Info session to learn how our exciting new diploma in cloud computing prepares you to have solid understanding and hands-on training of cloud computing concepts including fundamental technologies, architecture, design and security. In case cloud computing doesn't fit with your needs, find out more about our Network Security program. Having the same base courses as our Cloud Computing diploma in addition to specialty courses in Cyber Security and CEH.
Whether you are a beginner or expert level IT professionals, you will be guided by our subject matter experts to get career advice and learn about our program details. Through our infrastructure, experts and partnerships, we have a complete portfolio to provide top-of- the-line cloud computing learning and training. We look forward to helping you embrace this change and develop the skill sets to meet the demand of emerging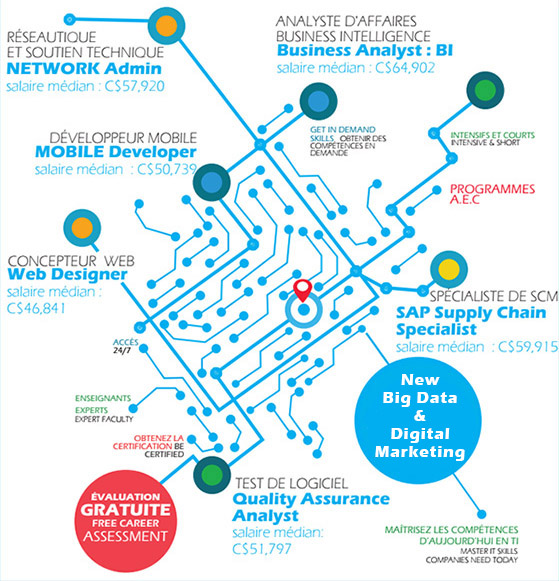 ---
Event Details

Venue : Montreal College of Information technology Campus
Time : 05 :30 PM
Date : Wednesday, 25th April, 2018

Event Schedule

Introduction to instructors and programs

Introduction to Networking

Enrollment & Finance options

Question time

Career advice

Refreshments
------------------------------------------------------------------------------------------------------------------------------------------
Domain Leaders

Ahmad Mousavi | Mahir Ali | Rob Morin
Who should do this program

Anyone looking to have a more advanced career in Networking & System Administration, System Security, troubleshooting, Server Administration or configuration will be a good fit. The good news is that network administration positions are open to individuals of all educational levels. Typically aimed at tech savy individuals, hardware technicians, IT network Administrators and the lot.
----------------------------------------------------------------------------------------------------------------------------------------
What will you learn?

The Networking and Technical Support program is designed to allow students to gain solid competencies in networking and system administration. From foundation of networking, Installation, configuration and maintenance of server components and peripherals, Troubleshooting ,maintenance of organisation network and storage devices, building and maintainence of virtualisation and cloud solutions.

---
MEDIA RELEASE DECLARATION
Montreal College of Information Technology, its representatives and employees reserves the right to take photographs of him/her and his/her property in connection with the above-identified subject. Participants authorizes Montreal College of Information Technology, its assigns and transferees to copyright, use and publish the same in print and/or electronically. He/she agrees Montreal College of Information Technology may use such photographs of him/her with or without his/her name and for any lawful purpose, including for example such purposes as publicity, illustration, advertising, and Web content.