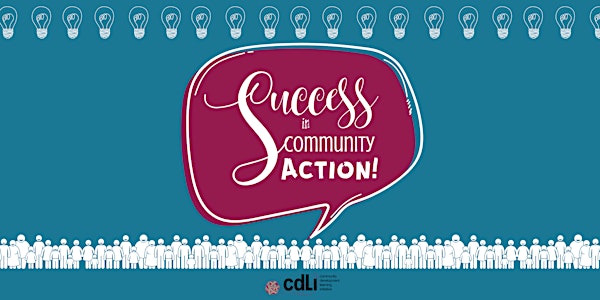 Success in Community Action training - Fall 2022 Learners
Are you a community-minded person who wants to build your knowledge and skills around community action? This 8 week training is for you!
About this event
This eight part learning opportunity is for people who are passionate about their communities and are interested in creating positive community change in Calgary.
Together with other learners, you will deepen your knowledge, learn tools, and build relevant skills that you can use to strengthen your own communities.
Our curriculum was developed through a collaborative process with input from Calgary residents, community development practitioners, and others in the field of community development and leadership development.
Topics explored include community change, visioning, asset mapping, ally building, and planning. You can explore the curriculum on our website at https://www.calgarycdli.com/success-in-community-action.
Schedule
We will meet virtually on Monday evenings from 6:00 p.m. to 8:00 p.m. Our learning dates include:
October 17: Welcome & CD Alive: Strengthening our Communities
October 24: Great Communities: Why, How What
October 31: Complexity & Root Causes
November 7: Community Strengths & Assets
November 14: Relationship Building & Trust in Community
November 21: Working with Conflict
November 28: Identifying and Celebrating Success
December 5: From Ideas to Action
The material builds off of learnings from previous weeks, so we ask that learners commit to attend a minimum of 6 of the 8 sessions.
If you have any questions, please get in touch by e-mailing CDLI@caryacalgary.ca or calling 403-919-3072.
We look forward to learning with you!