Event Information
Location
AFTERNOON WEBINAR
Open to attendees throughout North America
Webinar time-zone:
Calgary, AB
Canada
Description
What if I told you it's possible to successfully market and sell your book using nothing more than a comfortable chair in your favourite writing room, a laptop, an Internet connection, and your own God-given talent to write?
Can you spare two hours to learn the basics?
Whether a book was self-published or produced by a traditional trade publisher, there are some effective ways the author can boost its sales that will fit well with an introverted personality. Using these simple online techniques, all authors can now enjoy more commercial sales success—just like the extroverts do.
This is EASY! All it takes is six hours per week for authors to sell more copies of their books. With a reasonable time commitment such as this, anyone can do it.
Sign up today! Learn how to advertise, market, sell, and publicize your book to increase your sales!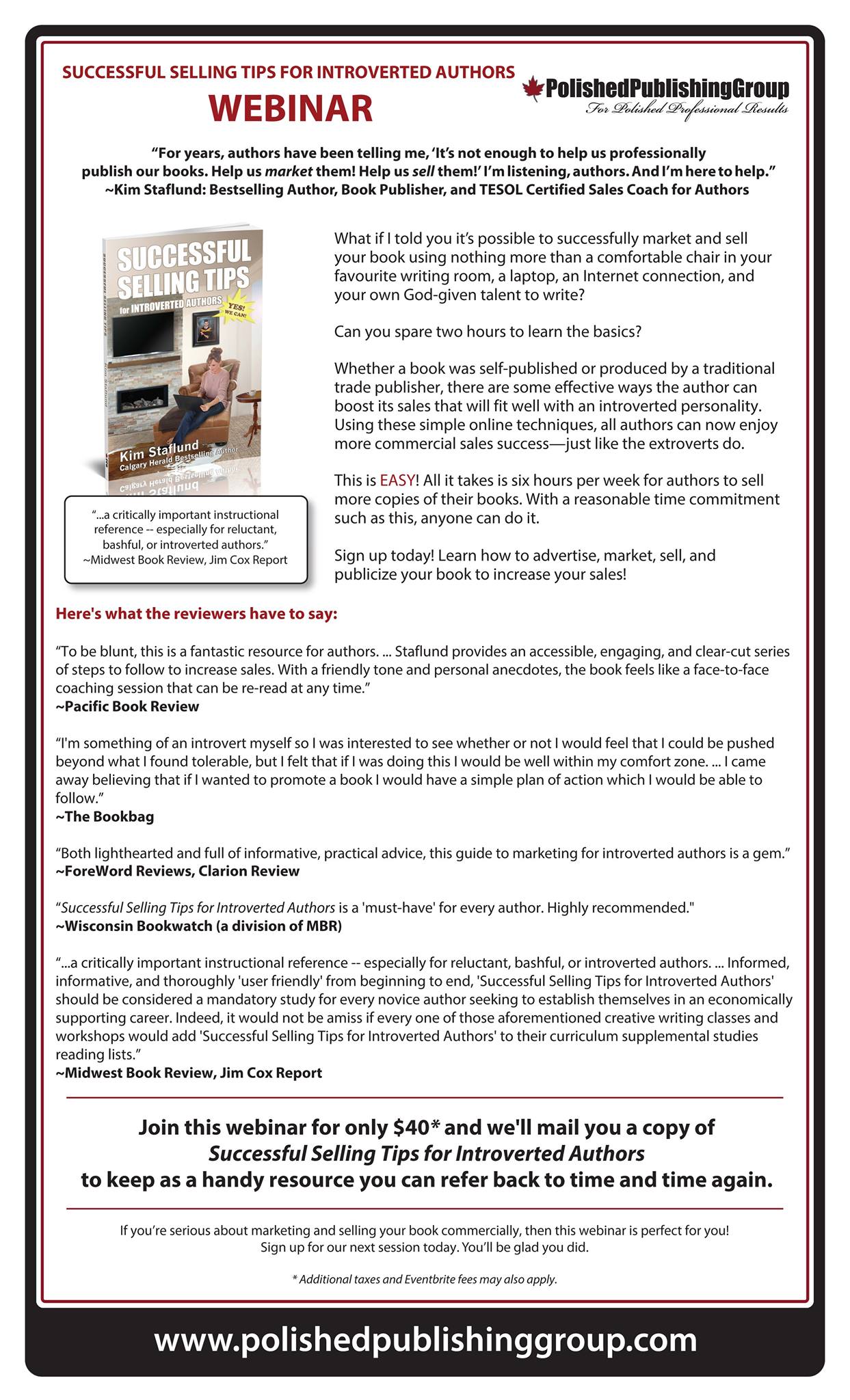 Here's what the reviewers have to say:
"To be blunt, this is a fantastic resource for authors. ... Staflund provides an accessible, engaging, and clear-cut series of steps to follow to increase sales. With a friendly tone and personal anecdotes, the book feels like a face-to-face coaching session that can be re-read at any time."
~Pacific Book Review
"I'm something of an introvert myself so I was interested to see whether or not I would feel that I could be pushed beyond what I found tolerable, but I felt that if I was doing this I would be well within my comfort zone. ... I came away believing that if I wanted to promote a book I would have a simple plan of action which I would be able to follow."
~The Bookbag
"Both lighthearted and full of informative, practical advice, this guide to marketing for introverted authors is a gem."
~ForeWord Reviews, Clarion Review
"Successful Selling Tips for Introverted Authors is a 'must-have' for every author. Highly recommended."
~Wisconsin Bookwatch (a division of MBR)
"...a critically important instructional reference -- especially for reluctant, bashful, or introverted authors. ... Informed, informative, and thoroughly 'user friendly' from beginning to end, 'Successful Selling Tips for Introverted Authors' should be considered a mandatory study for every novice author seeking to establish themselves in an economically supporting career. Indeed, it would not be amiss if every one of those aforementioned creative writing classes and workshops would add 'Successful Selling Tips for Introverted Authors' to their curriculum supplemental studies reading lists."
~Midwest Book Review, Jim Cox Report

---
Join this webinar for only $40* and we'll mail you a copy of Successful Selling Tips for Introverted Authors to keep as a handy resource you can refer back to time and time again.

---

If you're serious about marketing and selling your book commercially, then this webinar is perfect for you!
Sign up for our next session today. You'll be glad you did.
* Additional taxes and Eventbrite fees may also apply.

---
Check out these other books by Kim Staflund:
How to Publish a Book in Canada … and Sell Enough Copies to Make a Profit!: http://ow.ly/i/6VJDY/original
How to Publish a Bestselling Book … and Sell It WORLDWIDE Based on Value, Not Price!: http://ow.ly/i/6VJzL/original
You can purchase copies here. We'll mail them out to you.
Date and Time
Location
AFTERNOON WEBINAR
Open to attendees throughout North America
Webinar time-zone:
Calgary, AB
Canada