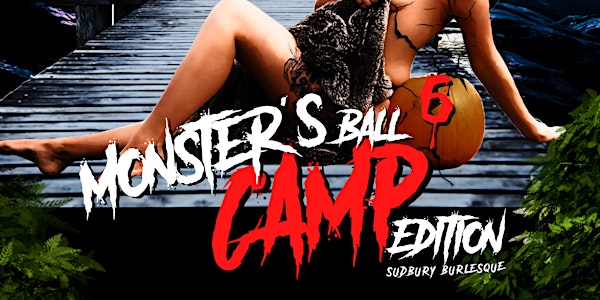 Sudbury Burlesque's "Monster's Ball 6: Camp Edition" Show and Costume Party
Location
The Grand
28 Elgin Street
Greater Sudbury, ON P3C 5B4
Canada
Sudbury Burlesque presents "Monster's Ball 6: Camp Edition", the Halloween burlesque show and costume party we've been waiting for all year!
About this event
We know what you did last summer - and camp isn't closed just yet!
This Halloween, Sudbury Burlesque presents Monster's Ball 6: CAMP Edition!
Have a seat by our fiery stage and shiver, scream and howl with morbid delight as more than 20 performers take you all the way back to those hot summer days for the biggest party of the year.
Scream queens, ghost stories, strange noises in the woods and all things that go 'bump' in the night... in this show, the scary movies turn YOU on. Come in your spooky dress for the best costume contest in town, visit our vendors and discover the haunted Grand Theatre, and stay for the after party at HQ Nightclub if you dare.
NEW this year: "Bad" things come in threes. That's right! We are adding a third show to give you more chances to pitch your tent.
Join us for a bloody good time - October 27th to 29th!
SEATING: This is a mix and mingle style event where patrons are free to rove the room and check out our on-site vendors and extras as the show takes place. Tickets are tiered so those who prefer to sit can snag a seat, but guaranteed seating is limited! Our general admission tickets are standing room only, but allow patrons to view the show from the "Pit of Despair" right in front of the stage and gives them access to the balcony seating throughout the night.
For those who want to be extra fancy: You may reserve one of our upper level VIP Bottle Service Booths for $100. This is a (non-refundable)DEPOSIT to reserve your table. This deposit will go towards your total for the Grand's $375 BRONZE Bottle Service Package (See packages below). Add ons and upgrades to the package can be made by emailing sudburyburlesqueinfo@gmail.com. Event Tickets NOT INCLUDED. All patrons MUST have also purchased a general admission ticket for the burlesque show.
DRESS: Costumes are encouraged, but definitely not mandatory. But remember...you can't win an extra cool prize if you don't dress up!
PARKING: Street parking. We want to make sure you have an amazing night - so keep an eye out for those no parking signs! No one wants to end the night with a boot on their car. So plan ahead and whatever you do....though it is tempting....DO NOT park at Shopper's Drug Mart.