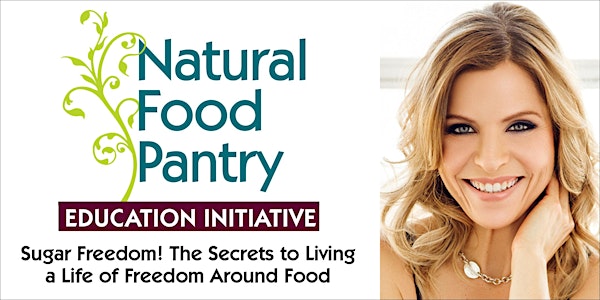 Sugar Freedom! The Secrets to living a life of freedom around food
When and where
Date and time
Wed, Apr 18, 2018 6:30 PM - 7:30 PM EDT
Location
Natural Food Pantry -Billings Bridge 2277 Riverside Drive Ottawa, ON K1H 7X6 Canada
Description
What's going on in the world of food and what's going on in your life? What's working and what's not working? What's holding you back from living a life you love? Why do you want to change? Who do you want to become?
For many of us, food has become our enemy instead of our friend. In this talk, Sarah shares how her addiction to alcohol transferred to sugar once she got sober and she reveals how prioritizing her health made all the difference in her life. She teaches us that creating awareness about what's going on inside and outside of our bodies helps us create a less complicated relationship around food and results in a life of freedom.
Join us and discover:
What's really going on in the food industry and in our homes

What we can do to begin to create a lifestyle we love

How we can make lasting change and truly create more freedom in our lives
Participants will get a discount to Sarah's 6 Week Sugar Freedom eCourse and will be entered into a draw to win a signed copy of her book!
Sarah Roberts got sober from alcohol 14+ years ago and went on a personal journey towards wellness. She now shares what she's learned with others in order to help them create a lifestyle they love. She is a wellness entrepreneur and author of The 28 Day Kick The Sugar Challenge as well as the founder of the popular blog SarahTalksFood.com and the creator of The 6 Week Sugar Freedom eCourse, a 6 week program designed to help people enjoy a less complicated relationship with food in order to experience greater freedom in their lives
About the organizer
Welcome to the Natural Food Pantry Education Initiative. Our goal is to provide customers a unique experience by delivering current, dynamic and accurate nutrition and wellness information through in-store workshops, food demonstrations, store tours, events as well as online resources such as videos, blogs and recipes. This engaging initiative is lead by Certified Nutritional Practitioner, Natasha Villeneuve. With eighteen years of nutrition experience and a deep passion for health and wellness, Natasha's vision is to make this a fun, informative and an engaging opportunity for everyone.
We hope you enjoy our seminars and workshops!