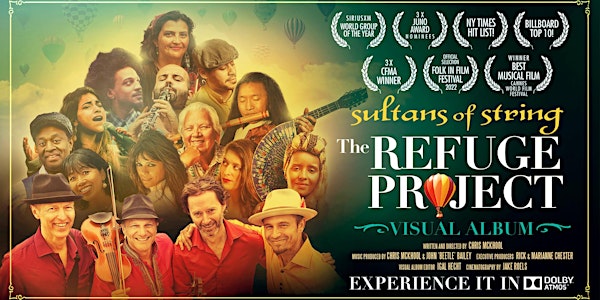 Sultans of String: The Refuge Project - Visual Album - FILM SCREENING
An ambitious, diverse, inclusive, passionately political film with NY Times & Billboard-charting world music supergroup Sultans of String
When and where
Location
Tranzac Club 292 Brunswick Avenue Toronto, ON M5S 2M7 Canada
About this event
DOORS: 6:00 pm
FILM STARTS: 7:00 pm sharp. 95 minutes.
Come join our Cast and Crew party, and celebrate our win at the monthly Cannes World Film Festival with a film screening, as well as another birthday "year around the sun" for bandleader Chris McKhool, all while raising donations for a good cause!
All admission proceeds after hall rental cost donated to the UN Refugee Agency for their life-saving programming. Sultans of String have raised more than $10,000 so far!
WHAT IS THIS FILM??
Mixed in full Dolby Atmos, this ambitious, diverse, inclusive, and passionately political film puts NY Times and Billboard-charting world music supergroup Sultans of String face-to-face with a VIP roster of global 'ambassadors,' some of whom are recent immigrants and refugees to Canada and the U.S., as well as essential Indigenous voices. All are masters of world music that communicate with each other through the global language of music.
Addressing the struggles of life on Mother Earth has always inspired Sultans of String. In The Refuge Project – Visual Album, they bring their unique brand of musical synergy and collaboration to bear on discussion and songs that speak to the challenges facing the world's displaced peoples—their stories, their songs, their persistence and their humanity.
Joined by an international cast, this three-time JUNO nominated band immerses themselves in the plight of the international refugee, and the humanitarian response that should greet everyone in search of a home.
Bandleader Chris Mckhool explains, "The larger Refuge Project is centred around the positive contributions of refugees and new immigrants to Canada. We are bringing in special guests that are newcomers to this land, as well as global talents that have been ambassadors for peace. We wish to celebrate the successes of those who make the journey here and bring their extraordinary talents with them, in this case, music. Each one of us has a remarkable story to tell, and we are excited to share the beauty of these collaborations with you."
The Refuge Project features stellar performances by Ahmed Moneka and Imad Al Taha, refugees from Iraq, Syrian refugee Leen Hamo, Donné Roberts from Madagascar with partner Yukiko Tsutsui from Japan, Algeria's Fethi Nadjem, Colombian refugee Juan Carlos Medrano, Iran's Padideh Ahrarnejad, Romani Nyckelharpa player Saskia Tomkins, tabla player Ravi Naimpally from India,sitar player Anwar Khurshid from Pakistan, string ensemble Gundem Yayli Grubu from Istanbul, and many, many more, including an orchestral version of "The Power of the Land" featuring Indigenous performers Duke Redbird and Twin Flames.
"The true inspiration behind this album is the incredible artists we get to collaborate with," says McKhool. "We learn so much from these diverse voices, and each one of them is so personally inspiring. As Ahmed Moneka, an artist and refugee from Iraq says, 'Love is the main reason for a great future," and we are so privileged to be able to collaborate with so many incredible voices on this project."
"Energetic and exciting music fest from a band with talent to burn… the very epitome of world music: no boundaries, no rules!" – Maverick Music Magazine, UK
https://sultansofstringfilm.eventbrite.ca