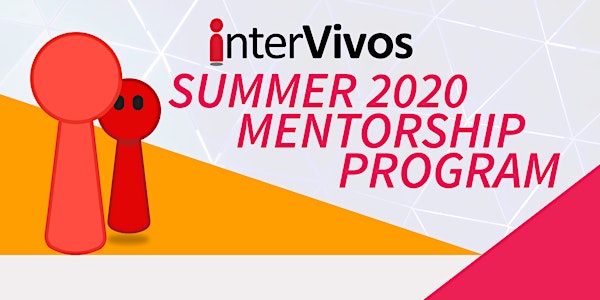 Summer 2020 Mentorship Program - Protégé Registration
interVivos Summer 2020 Mentorship Program - Protégé Registration
About this event
Whether you want to become a more confident leader or expand your perspectives, our program will match you with a helpful mentor. Our program has connected over 600 mentors and protégés since 2006.
Our mentors and protégés come from a variety of fields such as entrepreneurship, information technology, consulting, government, communications, healthcare, culinary arts, politics, and non-profit. Together, our mentors and protégés have worked on a variety of things, such as personal growth and development, workplace challenges, career changes, building networks, and work-life effectiveness.
Our Summer 2020 Mentorship Launch will be a one of a kind virtual experience. If you want the extra push to work on your goals while practicing safe physical distancing, this summer mentorship program is for you.
This is what you need to know:
10 protégés are introduced to 10 mentors at our program launch over Zoom.
You get a say in the matching process. Mentors and protégés rank their top choices. interVivos will notify you of the final matches at the end of July.
The launch is structured in a speed-rotation style, where protégés and mentors in pairs will discuss their goals and expectations in short conversations over Zoom.
Mentors and protégés agree to meet at least 3 times over the 5-month program (August to December). You have a say as to what this looks like. You can meet in person or do virtual check-ins if that works best for you.
interVivos will check-in throughout the 5-month program and provide additional support and resources to help you get the most out of the mentorship experience.
We understand the impact COVID-19 has had on many people. As we are committed to helping our community, protégés will choose their fee on a sliding scale ($50, $60, $70) to participate in the summer program.
Confirmed mentors include:
Here is what past protégés have said:
"I really enjoyed it! I came home feeling invigorated and I spent the next day writing down all the advice I received. I honestly wish I could connect with all of them!"
"interVivos created a safe, supportive and welcoming space for me to come out of my shell and feel confident while meeting some amazing potential mentors."
" The mentorship program is great for potential protégés because you get to meet seasoned professionals who you might not otherwise connect with, and you always leave learning something new!"
Questions? Send us an email at mentorship@intervivos.ca or visit www.intervivos.ca.