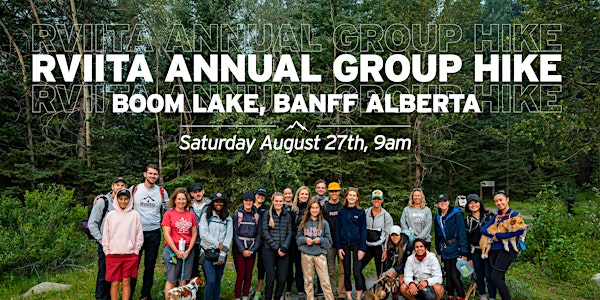 Summer 2022 Rviita Group Hike
Join us in Banff for an amazing day of hiking, photography, and free Rviita teas all around!
When and where
Location
Boom Lake Day Use Area Boom Lake Hiking Trail Highway 93 S Banff-Windermere Hwy, AB T1L 1K2 Canada
About this event
Hi Everyone,
Welcome to the open invite for our 5th annual Rviita Group Hike! We couldn't be more excited to have you along on our meet-up which will be an amazing day filled with fun, communi-tea, and the great outdoors!
On Saturday August 27th, we will be meeting in Banff National Park, Alberta at the Boom Lake day use area at 9am. We will be in the Rviita truck- so you won't miss us!
The Boom Lake trail is an easy- moderate rated trail, at 10.2km round trip and 200m of elevation gain. With a large group, we are anticipating a full day event so please be prepared for 3-5 hours of hiking time. While we will be supplying the Rviita of course, we ask that you come equipped with your own lunch/ snacks, adequate water, proper footwear, bear spray, and your own hiking gear (i.e. poles, bug spray, first aid kit, etc).
We are so excited to see you all there! Feel free to direct message us on Instagram @rviitalize or email Karly at karly@rviita.com if you have any questions! We kindly ask that everybody RSVP by August 22nd.
Thanks and see you there!
-Mitch, Rob and Karly, Rviita Team
Boom Lake Hike Details (Taken from https://www.pc.gc.ca/en/pn-np/ab/banff/activ/randonee-hiking/banff#Boom)
Description: This gradual and easy ascent leads hikers through a picturesque forest to a large alpine lake surrounded by mountains.
Length: 5.1km one way
Elevation gain: 200m
Trailhead: Boom Lake Day Use Area parking lot on Highway 93 South, about 7 km southwest of Castle Junction.
Directions: From Banff go west on Highway 1 (the Trans-Canada) or from Lake Louise go east on Highway 1. Take exit 50 to get on Highway 93 South. Follow Highway 93 S to the Boom Lake Day Use Area on the right hand side of the highway.
DISCLAIMER AND RELEASE
Rviita Inc., its affiliates, respective successors, officers, employees, directors, and shareholders (collectively, the "Company"), as well as the organizers of the group participating in the Event (as defined below), the organizers of the Event, or the hosts of the Event (collectively the "Organizers", and together with the Company, collectively "Rviita", "Us, or "We") have coordinated an event whereby you, as a participant, have been invited to join a number of other participants in a group hike located within the Banff National Park in Alberta, Canada, on the date of August 27th 2022 (the "Event").
By participating in the Event, you hereby acknowledge, accept and agree to be bound by this Disclaimer and Release, and acknowledge, accept and agree that no legal liability will be borne by Us for any accident, injury, loss, or damage of any kind occurring as a result of your participation in the Event and you hereby indemnify and forever discharge Us, our successors and assigns from any and all actions, causes of action, proceedings, liabilities, damages, claims, demands, and obligations of any kind or nature whatsoever, including without limitation any claim for loss or damage of any kind not yet ascertained, both in law and in equity, whether implied or express, known or unknown, suspected or unsuspected, contingent or absolute, direct or choate (collectively, the "Claims"), which arise from or are in any way associated with your participation in the Event. In addition, you hereby acknowledge and agree that your participation in the Event does not create any legal relationship between you and Us.This Disclaimer and Release shall be governed by the laws of the Province of Alberta and the laws of Canada applicable therein without regard to any conflict of law provisions. If any provision of this Disclaimer and Release is held to be invalid, illegal or unenforceable, such provision shall be enforced to the fullest extent permitted by applicable law, and the validity, legality and enforceability of the remaining provisions shall not in any way be affected or impaired thereby. This Disclaimer and Release shall bind and enure to the benefit of Rviita and each participant and their respective successors, heirs, executors, administrators, personal representatives and assigns.
In addition to the above, you hereby acknowledge and agree to the following:1. Each participant attending the Event does so entirely at their own risk.2. The Event is not recommended for children under the age of 12.3. Dogs are allowed at the Event but must remain on a leash throughout the entire duration of the Event and shall remain the responsibility of their respective owners.4. The Event will be taking place within the Banff National Park in Alberta, Canada. Accordingly, all participants of the Event are responsible for obtaining a Parks Canada pass and displaying it on their vehicle.5. Each participant is responsible for their own transportation to and from the Event. Rviita accepts no liability with respect to any Claims arising from your travel to and from the Event.6. Each participant is responsible for their own food, water, safety equipment, and hiking equipment for the Event. Recommended safety equipment includes, but is not limited to, bear spray, first aid kits, and bug repellant spray. Recommended hiking equipment includes, but is not limited to, hiking boots and waterproof clothing. 7. Rviita will not be employing qualified guides, hiking leaders or people with first aid training for the Event. Participants are responsible for assessing their own risk and skill level, the safety of themselves and their guests, and the suitability of any equipment used prior to engaging in the Event.8. We may, without liability and without obligation, prevent your engagement in the Event if We believe, in our sole and absolute discretion, that you are ill-equipped to engage in the Event. Any person who attempts to enter the Event but is denied entry as a participant by Us acknowledges and agrees that they shall have no Claims against Us for such denial of entry to the Event.
COVID-19 CONSIDERATIONS
As of July 1st 2021, Alberta has moved into stage 3 of its reopening plan which puts no limits or restrictions on outdoor gatherings.
By participating in this Event, you acknowledge the contagious nature of COVID-19 and agree to voluntarily assume the risk that you may be exposed to or infected by COVID-19 by attending the Event and that such exposure or infection may result in personal injury, illness, permanent disability, and death, and you acknowledge and agree that you shall have no Claims against us as a result of any COVID-19 infections resulting from your participation in the Event.